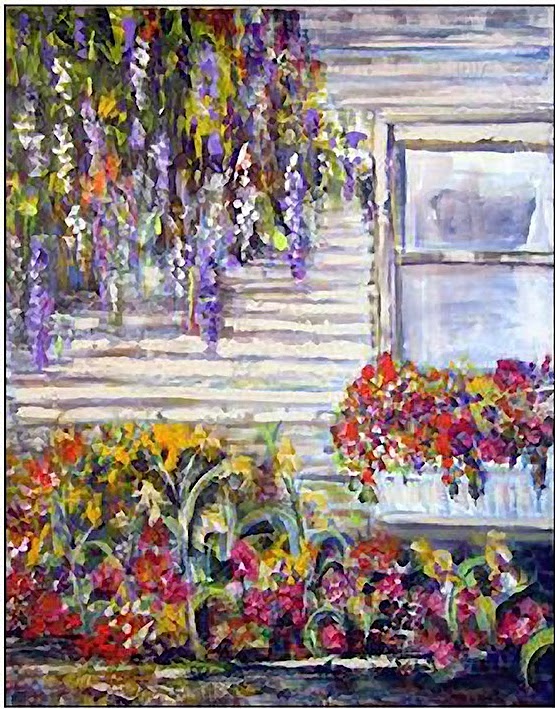 >
The August show at the Art Cottage, Contra Costa Landscapes, will feature two local plein air painters, Pam Miller and Pat Draper.
Pam Miller spent many years painting with watercolor and now also enjoys working with acrylic. "I love plein air painting – the elements don't frighten me. Neither snow, nor rain, nor heat, nor gloom of night shall keep me from my appointed rounds!" Pam paints by mixing colors directly on the canvas and creating bold, bright marks with her favorite tool – the palette knife.  Her work reflects her positive attitude and will make you smile.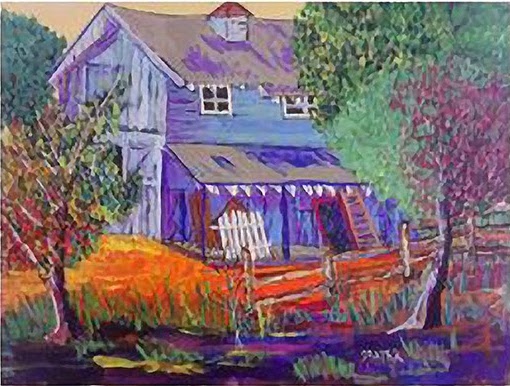 >
Pat Draper has been painting since high school, starting with oils, then about six years ago she switched to acrylics. "I met Pam through Mark Jezierny's painting class; we've shared many plein air painting adventures in Northern California." Pat enjoys expressing color with bold strokes and she's currently working on a collection of farm settings.
The artists' reception for Contra Costa Landscapes is Thursday, August 7th from 6:00 to 9:00 pm.
Photo credits:
1.  Pam Miller
2.  Pat Draper
Text was excerpted from the Art Cottage blog.
EVENTS – Visit the Arts & Culture Commission's new events calendar for more!
TONIGHT – Music & Market
6:30 – 8:00pm
Karaoke and Push (classic rock)
Todos Santos Plaza, Concord
August 1-3
Pirates of Penzance
Lesher Center, Walnut Creek
August 2
8:00am – 4:00pm
Martinez Peddlers Faire
August 2
7:00pm
Summer Show Art Reception
Jennifer Perlmutter Gallery, Lafayette
August 4
7:00 – 9:00pm
Singer/Songwriter Showcase
Armando's, Martinez
August 7
6:00 – 9:00pm
Contra Costa Landscapes Artist Reception
Art Cottage, Concord
Now through August 7
Arthur Paul exhibit
Walnut Creek City Hall
August 9
10:00am – 5:00pm
Scene on the Strait Art Festival
Martinez Regional Shoreline
August 16
8:00pm
The Marcus Shelby Jazz Orchestra
California Theater, Pittsburg
August 17
10:00am – 5:00pm
Art in the Park
Plaza Ignacio, Martinez
Now through August 31
Unique Art, Unique Homes exhibit
Lafayette Art Gallery
Now through August 31
Contra Costa Landscapes
Art Cottage, Concord
Creative Space is a weekly column written by Lisa Fulmer that features local art events and performances, information about creative movers and makers, and fun how-to craft projects for you and your family. Creative Space will be on Claycord.com every Thursday at 2pm.
As an avid creative junkie living in Concord, Lisa wants to make it easier for our readers to find ways to embrace creativity and celebrate the local people who are making it happen. In addition to her work as a marketing consultant and a project designer for the craft industry, Lisa also offers a craft party planning service for birthdays, family reunions and other special events.