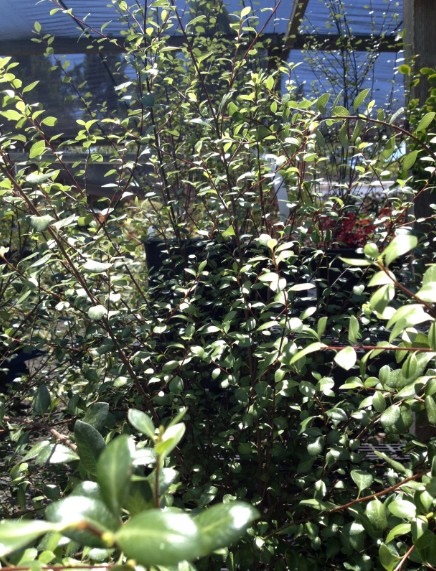 >
Pittosporum tenuifolium 'Silver Sheen' is an excellent privacy installation, or fence cover. 'Silver Sheen' for short, is evergreen and does extremely well in our Claycord soils and climate. It is fast growing and attractive making it a very desirable installation for local landscapes and gardens.
As 'Silver Sheen' matures it can reach heights of 10-12'tall and 6' wide. Tiny olive green leaves line dark purplish stems. The overall appearance of 'Silver Sheen' is graceful, with fine texture, which adds lots of interest to a landscape.
'Silver Sheen' can be pruned or hedged to shape. The tiny leaves make it very desirable to prune since it won't show brown leaf cuts like other broad leafed shrubs that are pruned.
Install 'Silver Sheen' in full to partial sun. It will need at least 6 hours of direct sun to grow straight. Soil condition isn't a problem. Whether you are planting in clay or rocky soil, 'Silver Sheen' will adjust and thrive. It is also a nice consideration for a large planter.
'Silver Sheen' will need regular water to establish after installation. Once mature, 'Silver Sheen' becomes more water-wise.
All of the members of the Pittosporum family make fabulous landscape installations. They share similar attributes that will make them distinguish additions to any Claycord yard.
Happy Gardening!
Nicole Hackett is the Garden Girl at R&M Pool, Patio and Gardens, located at 6780 Marsh Creek Road in Clayton, 925-672-0207.
Nicole writes for the Clayton Pioneer Newspaper, and Claycord.com. She is also the Clayton Valley Garden Club 2012 President.

>