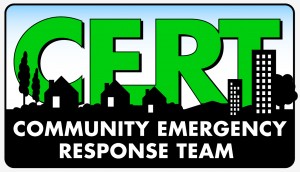 >
Registration is under way for the Fall 2014 Community Emergency Response Team (CERT) training. Classes will be held seven consecutive Mondays, Sept. 8 through Oct. 20, with a final drill the morning of Oct. 25.
CERTs are sworn in as volunteer Disaster Service Workers for the City of Walnut Creek, and trained to work together to safely respond to the immediate needs of their neighborhoods in the event of emergency. CERTs serve as the "eyes and ears" for first responders during the critical hours following a disaster, and are an invaluable resource to the City's overall Emergency Management efforts.
To learn more, visit the CERT webpage, or click here to register online.