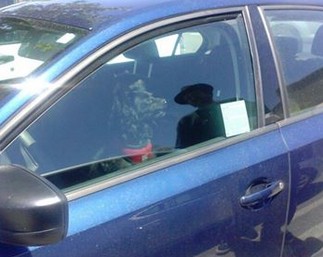 >
The dog pictured in a hot vehicle was spotted by a Claycordian today, but instead of just calling the police (which she also did), she went inside Guadalajara Grill on Ygnacio Valley Rd. in Concord, and found the owner.
Here's what happened next, according to the dog saver….
I walked in, found the guy, and said it's hot as hell and he left his crying dog in the baking car in the sun and told him I called the cops. He came outside and got his dog out and I told him next time he should just take the dog with him. He flipped me off.
Lovely.
Thanks for saving the dog's life since it was probably well over 120-degrees inside the vehicle.