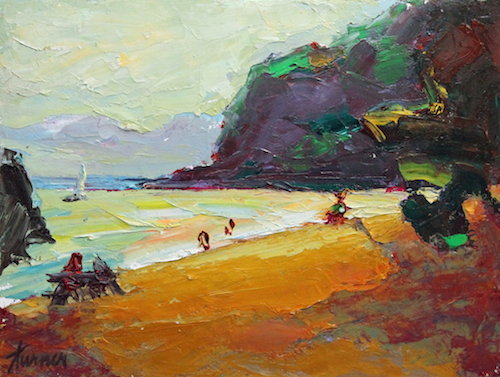 >
The popular Scene on the Strait art festival – a premiere showcase for plein air painting – is happening on Saturday, August 9 at the Martinez Regional Shoreline.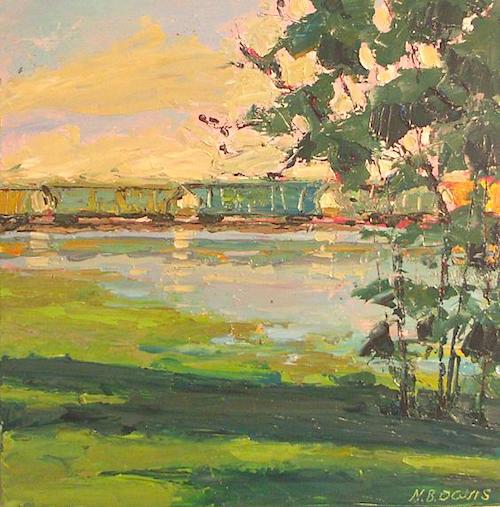 >
Scene on the Strait is a fundraising event for the Carquinez Regional Environmental Education Center (CREEC), whose mission is to protect and restore wildlife habitats along the Carquinez Strait. Art sales at the festival have raised tens of thousands of dollars over the years for CREEC's vital environmental programs.
Twenty leading California plein air artists will be painting at the festival and chatting with attendees. You'll enjoy live music, gourmet food and art for sale. Admission and parking are free!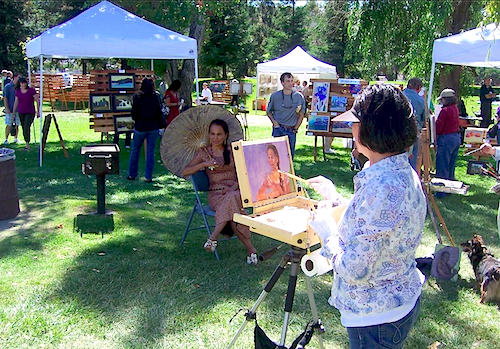 >
Photo credits:
1.  China Camp Beach by Jerrold Turner
2.  Trains by Nikki Basch-Davis
3.  2012 Scene on the Strait – Facebook page
Text excerpted from a press release by Kevin Nelson
EVENTS – Visit the Arts & Culture Commission's new events calendar for more!
TONIGHT – Music & Market
6:30 – 8:00pm
Foreverland – Michael Jackson tribute band
Todos Santos Plaza, Concord
July 24-25
Peter Pan Jr.
California Theater, Pittsburg
July 26
12:00 – 3:00pm
Handmade Happy Hour with Lisa Fulmer
Free fabric stenciling & stamping class
Concord Library
Now through July 31
Artist Getaway exhibit
Art Cottage, Concord
August 2
8:00am – 4:00pm
Martinez Peddlers Faire
August 2
7:00pm
Summer Show Art Reception
Jennifer Perlmutter Gallery, Lafayette
Now through August 7
Arthur Paul exhibit
Walnut Creek City Hall
August 9
10:00am – 5:00pm
Scene on the Strait Art Festival
Martinez Regional Shoreline
August 17
10:00am – 5:00pm
Art in the Park
Plaza Ignacio, Martinez
Now through August 31
Unique Art, Unique Homes exhibit
Lafayette Art Gallery
Creative Space is a weekly column written by Lisa Fulmer that features local art events and performances, information about creative movers and makers, and fun how-to craft projects for you and your family. Creative Space will be on Claycord.com every Thursday at 2pm.
As an avid creative junkie living in Concord, Lisa wants to make it easier for our readers to find ways to embrace creativity and celebrate the local people who are making it happen. In addition to her work as a marketing consultant and a project designer for the craft industry, Lisa also offers a craft party planning service for birthdays, family reunions and other special events.