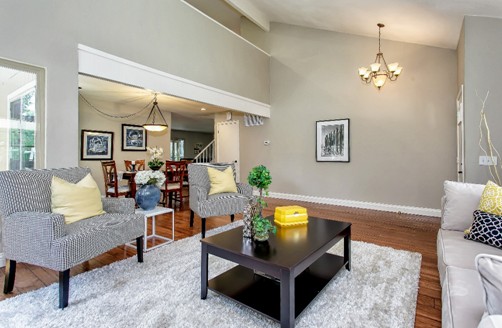 >
Today, the best mortgage rates are available to borrowers with credit scores of 720 or higher. If your scores are below 620 (some analysts say below 680), you'll have real trouble getting good loans with reasonable rates. Tens of millions of folks in the US have scores below 620, so you are not alone. But if you're thinking of buying a home at any time in the future and your scores are low … even just below 720 … it's well worth improving your credit. Improving credit takes time, but here are some tips to help you get results as quickly as possible!
#1: Understand your credit scores. You've likely seen many ads promoting "free credit scores!" You can look online to see all kinds of articles written about these offers. The issues are: 1) the reports aren't really "free," 2) sites "estimating" your scores are basically useless because you need the actual score not a ballpark, and 3) these companies use MANY different ways of calculating your score, that are different than the way the 3 credit bureaus calculate it. According to watchdog sites like Consumer Reports, the most reliable and useful score is provided by FICO – which you can either purchase (Equifax can provide your FICO at a reasonable cost), or get for free via certain credit cards (like Discover).
#2: Understand your credit history. Each of the 3 credit bureaus (Experian, Equifax and TransUnion) is required to give you a free credit report annually. These reports provide a comprehensive history – not your current credit score. The ONLY site you should use to get this information is AnnualCreditReport.com. These reports will show your full credit history, including mistakes, unpaid debts, accounts that went to collections, etc. When you know what lenders are seeing, you can begin to fix problems.
How to Improve Your Credit ASAP
Automate yourself – pay your bills on time, every time! Don't miss a payment again. Set up a payment reminder system that works for you and stick to it. This is the single best way to improve your credit. Ironically, a late or missed payment will hurt good scores more than bad credit scores, dropping 700-plus scores by 100 points or more. A late payment that is just one of many won't hurt your score as much, BUT a year of on-time payments will improve your scores a great deal!
Pay down your credit cards as aggressively as possible. Lower your balance on every card to under 30% (or better, 10% or ZERO) of their credit limit. Do you have savings? If your scores are low, I have to recommend you use savings to pay your cards way down, then religiously pay back your savings account just as if it were a credit card bill. Eliminate the debt in order to build your credit, and treat the debt to your savings account with respect – pay it back!
Use your credit cards lightly starting now! = Live within your means.
Increase your credit limit – but don't use it. If you're in a burning rush to improve your credit, and your credit isn't terrible … you can request that your card limits be increased. This will magically alter your debt ratio, and will make it easier to get your balances down to under 30% of your "credit limit." BUT – don't spend up and use that extra credit! P.S. Do not ask a lender to reduce your credit limit ever – this can hurt your scores.
Check your credit card limits against your credit history. Make sure that all 3 bureaus have accurate limits listed. Your scores may be artificially depressed if your lender is showing a lower credit limit than you actually have. Most card issuers will quickly update this info if you ask.
Make sure your credit cards and loans are being reported to all 3 bureaus. Not all cards and loans report to all 3. Do your research, contact your lenders, and make sure yours are. A robust credit history tends to work in your favor.
Use an old card. Are you using newer cards, but have an old one that you never use? I'm not saying use more credit, but the older your history the better. Older cards that are unused are given less weight by the bureaus, but lenders like to see a looong credit history. Begin using the old one to pay something minor like your Netflix account, and pay it off every month.
Avoid consolidating your accounts. Applying for a new account can hurt your scores. So, too, can transferring balances and concentrating all or most of your credit-card balances onto a single card. In general, it's better to have smaller balances on a few cards than a big balance on just one. Remember that "under 30%" rule!
Resolve problem debts right now. Either fight them and win, or pay them off now. Just don't mess with it – these issues will stay on your record for YEARS, so fix them and don't let the problems linger. Any accounts listed as "settled," "paid derogatory," "paid charge-off" or anything other than "current" or "paid as agreed" are worth disputing if you actually paid these in full or on time, or if they're not yours. Negative items more than 7 years old should have automatically fallen off your reports.
Make a "goodwill" request. If you used to rack up late payments but you've been great for 12 or more months, you can request (sometimes required to be in writing) that your lender erase a single late payment from your history. You can also ask to have the card "re-aged" to eliminate your prior negative history.
In today's home buying market, you really need to have all your ducks in a row when you go after loan financing. Be prepared by obtaining all your credit info up front, and doing everything you can to improve your history and scores well before you find your dream home.
Until next time … Nancy
Nancy Bennett, REALTOR, Keller Williams East Bay CalBRE 01399870
Nancy Bennett has over 20 years of sales and marketing experience, with over 10 years selling real estate in the East Bay. She's an award-winning real estate agent in Contra Costa County, the #1 Realtor in The Crossings neighborhood, and she heads up The Bennett Team – the leading real estate team at Keller Williams East Bay. She's won the Five-Star Professional Award in Real Estate for 2012 and 2013.
Nancy is also a member of the National Association of Realtors, the California Association of Realtors, the Contra Costa Association of Realtors, the Fortune 400 Masterminds, and Contra Costa Realtors in Motion. She serves on the Agent Leadership Council, as well as being a faculty member and mentor to new agents at her office.
Nancy is a licensed foster parent and a volunteer with local organizations such as Meals on Wheels and Youth Homes in Walnut Creek.  For more information, please visit www.BennettBetter.com or reach Nancy directly at: Nancy@BennettBetter.com.