>
Traffic Jammin' with Janis Mara – Every Monday at 2pm on Claycord.com.
TRAFFIC JAMMER: Greetings, all! This Claycord.com column is for everyone who negotiates the highways and public transit of the Bay Area. It runs every Monday at 2pm and answers your commuting and transportation questions.
Email your questions to trafficjammin@claycord.com.
TRAFFIC JAMMER: Behold! This week, frequent commenter Connie Dobbs shares this great shot of her 1977 Toyota Corolla taken in Oakland in 1998. She said, "It was like being in one's own parade. I never once got pulled over in it." Thanks for sharing! Claycordians all, don't hesitate to share photos of your rides as well.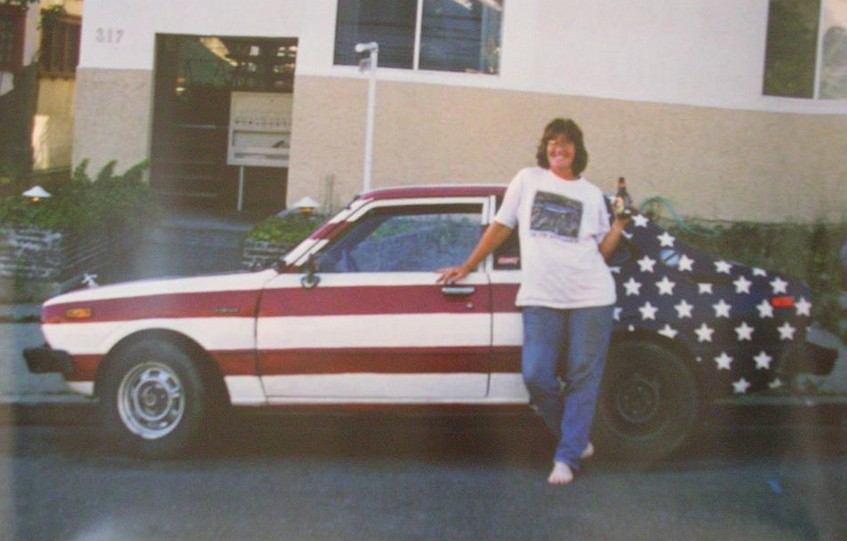 >
COMMUTER: I was driving down San Pablo Avenue in Richmond and approaching a traffic light at an intersection. Traffic was backed up in the two main lanes, so I drove between a set of double yellow lines to get to the left-turn lane and make my turn.
When I completed the turn, I was shocked to see a police officer behind me with lights on. He pulled me over and gave me a ticket. What gives?
–Unpleasantly Surprised
TRAFFIC JAMMER: US, you ran afoul of a phenomenon that confuses a lot of people – a set of double yellow lines, with enough space between them for a car to drive in.
Years ago, a CHP officer told the Jammer to think of this as equivalent to a traffic island. Just as you're not allowed to drive on or across a traffic island, US, you cannot do so with a set of double yellow lines.
This setup is governed by Vehicle Code section 21651(a). The section dictates that whenever a highway is divided into two or more roadways by a section not less than two feet in width, either unpaved or delineated by curbs, double-parallel lines, or other markings, it is illegal to drive any vehicle upon the dividing section.
COMMUTER: I got a ticket for talking on my cell phone and I'm worried because I need my car to drive to work. I got another ticket about a year ago, so I can't go to traffic school to mask this ticket. Am I going to lose my insurance once my insurance company learns I got a ticket?
–Frightened
TRAFFIC JAMMER: The cell phone ticket will not appear as a point on your record, Frightened. Since you need a clean driving record so badly, the Jammer suggests turning off the cell phone before getting in the car, so you won't be tempted when it rings, or even putting it in the trunk. Otherwise, you could end up getting in a crash because of the distraction.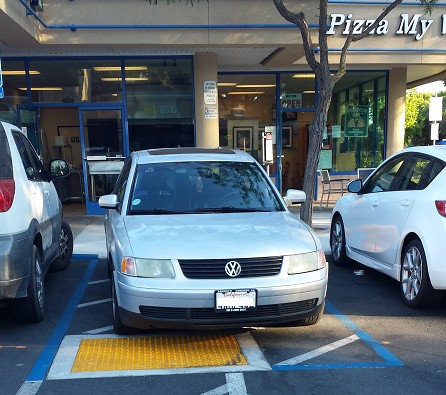 >
COMMUTER: Hey Jammer, was down at the laundrymat today and saw something that made me mad. So I took a pic (above). How do we fight this crap without resorting to calling up our large friends and physically moving the car into the street?
–TC
TRAFFIC JAMMER: TC, you are a gentleman and a scholar. Thanks for your concern, your photo and your question. Readers, as you can see, this driver parked not in the disabled space but the crosshatched area next to it. It is also illegal to park in that space. The answer: Even though parking lots like these are considering private property, you can call law enforcement to come and handle the situation and they will do so.
TRAFFIC JAMMER: That's it for this week – see you next Monday. Be sure to cruise by Claycord.com at 2pm for more traffic intelligence. Remember, whether you drive, walk, bike or hop Amtrak, BART or AC Transit, Traffic Jammer Janis Mara is here to answer your questions.
Send your questions to trafficjammin@claycord.com