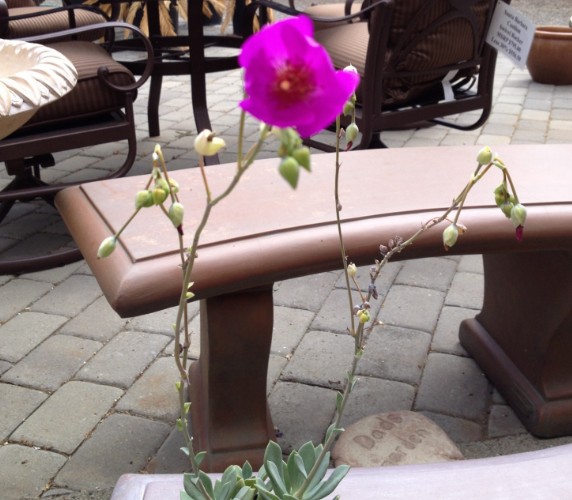 >
Claycord garden lovers have been seeking succulents all growing season long. They are the most sought after groups of plants for this year. Folks have been perusing shelves at nursery, garden centers and plant sales looking for unique pieces to add to their collections. One of the more popular, easy to grow members of the succulent families is Calandrinia spectabilis.
Calandrinia spectabilis is a fast growing, sun loving groundcover with striking cool blue leaves and bright magenta flowers atop 24" stems. This evergreen succulent is exceptionally hardy to our local climate, surviving Claycord's frosty winters and hot, sunny days.
A great feature of Calandrinia spectabilis is its surging growth. I describe its growth as compared to tossing a king-size pillow on the ground, since it can grow that wide. The stems that hold the magenta flowers are thin and give movement to the landscape like an ornamental grass would sway in the breeze. Calandrinia spectabilis will flower from late March through mid October.
The gray leaves of Calandrinia spectabilis makes an excellent contrasting groundcover for those that use black bark as mulch. Calandrinia spectabilis will thrive in a container, rock garden, and garden bed or landscape border.
.
Calandrinia spectabilis is water-wise, so you don't have to feel guilty about installing considering our current water situation. It is also fun to share this evergreen. All one needs to generate a new plant is to break off an arm and push it into the ground or a container.
Happy Gardening.
Nicole Hackett is the Garden Girl at R&M Pool, Patio and Gardens, located at 6780 Marsh Creek Road in Clayton, 925-672-0207.
Nicole writes for the Clayton Pioneer Newspaper, and Claycord.com. She is also the Clayton Valley Garden Club 2012 President.

>