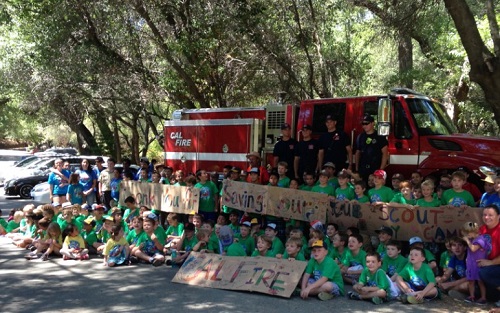 >
Just two days before camp was set to begin at Marsh Creek Springs, a vegetation fire broke out across the street from the Cub Scout Day Camp near Aspara Dr. on Marsh Creek Rd. last week.
The fire was extinguished within a few hours, but not before it forced residents to evacuate, and burned over 80-acres.
Fortunately, no homes were burned, and although the fire came within a few yards, the day camp was saved by firefighters from CalFire.
The Cub Scouts took a few minutes out of their day to say "thanks", and pose for a picture with some of the firefighters who helped save the camp.
The sign their holding says "Thank You for Saving Our Cub Scout Day Camp CalFire".
Very nice.
Thanks to Sandra for the picture!