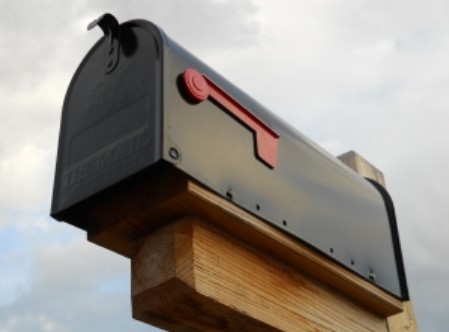 >
A Claycordian confronted a mail thief this morning off Peacock Creek Dr. in Clayton, and it turns out the thief was also driving a stolen vehicle.
Here's the story….
At around 7:40am my 8-year-old came downstairs and told me she thinks she sees someone stealing mail in our cul-de-sac.
I knew my neighbors were out of town for the week, so I went outside to look.
I saw a red Honda parked two doors up in front of my vacationing neighbor's house. We were not asked by the neighbors to collect the mail, so I thought they made other arrangements & this person was collecting their mail for them.
What went through my head was, I could be that guy who said "Oh I thought you knew them", so I decided to go up and talk with the person.
As I approached the car, I could see there was one person in the drivers seat. His window was down and he had a lap full of mail – smoking a cigarette and was flipping through a new box of checks.
All I said was, "hey – give me the mail". He said it was his uncles house and he was collecting for him. He was about 19 or 20, anglo/Hispanic mix, un-shaved.
I asked who his uncle was and stammered through the wrong name – I called BS and told him to give me the mail. Telling me it was his uncles as he started handing the mail to me through the window, I noticed a lot of other mail and boxes under blankets in the passenger seat. One box was clearly in view as an iPhone box. I told him to give me the other mail, the cops were on their way and I wanted the iPhone box as well. He said the iPhone was his – I told him he could get it back from the cops and the mail from his uncle when they get here.
He showed me the iPhone box was empty, placed it back and I saw him grab a lock blade knife. The blade was exposed and he was fidgeting w/ it. I said…."Are you going to pull that knife on me?" He said, uh, no this is my key. Made no sense and I questioned what the hell he meant about a key. I accused him of stealing this mail and said the rest of the stuff looks stolen & that the cops should be here shortly.
He said if they are coming, he'd rather leave. He started the car and left….I really did not want to engage – confront physically with a blade in his hand & me barefoot and my children two doors down in the driveway.
I ran back and called Clayton PD. They did a sweep through Peacock Creek and came to my house. The license plate I gave him shows up to a car stolen yesterday out of Antioch. The Officer returned later and showed me a picture of the car he had, which I confirmed was the car.
I have all the neighbors mail and wish I could have gotten more from the guy. Hopefully he's caught.
The guy was pretty brazen….parking his car at the top of the cul-de-sac and walking to the mailboxes. Slight build, camo cargo shorts – black T w/ NorCal (Red Green Gold colors).
Keep an eye out folks.
Keep your eyes out, Claycordians, thieves are lurking all over the place just waiting to take what doesn't belong to them.