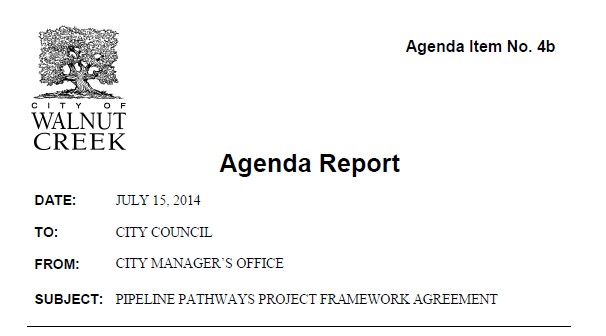 >
As we previously reported, PG&E is proposing to remove 734 trees in Walnut Creek (1,729 trees locally) to clear a pathway above its pipeline.
Local cities, including Walnut Creek, are working with PG&E to try and save some of the trees marked for removal.
Walnut Creek Mayor Kristina Lawson gave us an update on their negotiations with PG&E, saying the City Council will consider approving a framework agreement with PG&E during tonight's City Council meeting.
The following information is from Walnut Creek Mayor Kristina Lawson:
I am pleased to announce that at the July 15, 2014 regular meeting of the Walnut Creek City Council, the City Council will be considering approving a framework agreement with PG&E that will outline PG&E's commitments to the City in connection with its proposed Pipeline Pathways project. The City Council will consider the agreement at its 7:00 p.m. meeting, and PG&E executives will be present to address the City Council.
Thank you for the work you all have done to get us to this point. I am optimistic that by putting a framework agreement in place, the City and PG&E can begin to work more cooperatively on all issues of community concern while keeping the community safe. I encourage you to attend the City Council meeting on Tuesday night.
The agenda for the meeting and a draft of the agreement and supporting documents are available HERE.
The proposed agreement confirms the City's and PG&E's commitment to maintaining gas pipeline integrity and safety and to the importance of trees and landscaping to our community character.
PG&E also commits in the proposed agreement to:
1. reevaluate all trees initially proposed for removal, upon request by an agency, and only propose the removal of trees for which data supports safety concerns, all with a goal of reducing the number of trees proposed for removal;
2. complying with ministerial encroachment permit procedures and requirements;
3. identify trees protected by local tree protection ordinances;
4. mitigate for protected tree removals as mutually agreed by the agency and PG&E;
5. pay for the costs associated with agency evaluation of work, including third party arborists and other consultant and staff time as agreed by the agency and PG&E;
6. evaluate various specified mitigation measures that could potentially avoid the need for tree removals;
7. provide detailed data, as specified, to allow the agencies to evaluate and understand the project; and
8. conduct field reviews with the agency.
The proposed agreement does not resolve the dispute between the City and PG&E over whether PG&E is subject to local tree removal ordinances. Instead, the agreement is designed to develop a framework for limiting the number of trees required for removal and to develop information for the City to carefully consider PG&E's tree removal requests. City staff and PG&E acknowledge that there may eventually be disputes over PG&E's right to remove individual trees. If such a dispute were to arise, the City or PG&E could seek legal or regulatory remedies at that time.
Thank you again for all of your support, phone calls, and emails over the past several months – they made a real difference! Once again, Walnut Creek residents and our partners and friends across the region came together to protect the community character we all cherish so much.
I hope to see you at Tuesday night's City Council meeting. Feel free to email me anytime (kristina.d.lawson@gmail.com) or call me ((925) 708-7544) with any comments, questions, or input.
My very best regards,
Mayor Kristina Lawson