>
Traffic Jammin' with Janis Mara – Every Monday at 2pm on Claycord.com.
TRAFFIC JAMMER: Greetings, all! This Claycord.com column is for everyone who negotiates the highways and public transit of the Bay Area. It runs every Monday at 2pm and answers your commuting and transportation questions.
Email your questions to trafficjammin@claycord.com.
TRAFFIC JAMMER: Behold, Claycordians all! Our pal, frequent poster Jtkatec, shared a photo of her beautiful restored 1965 Thunderbird in all its glory. By all means, each and every one of you should feel free to send photos of your beautiful vehicles as well!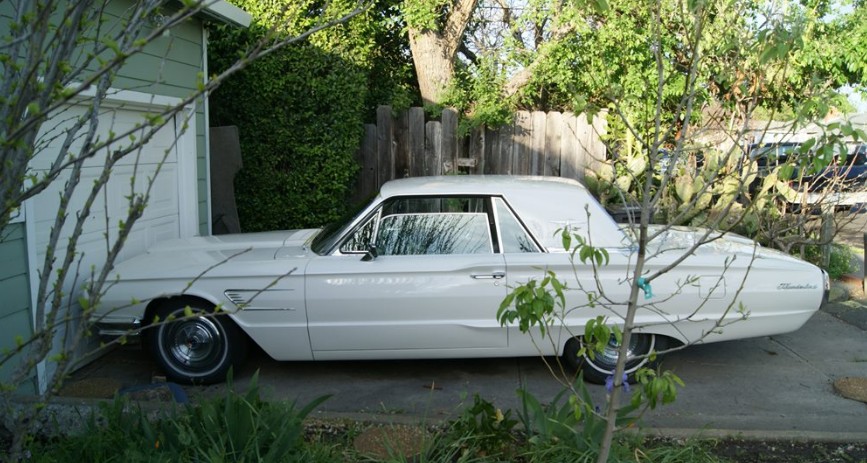 >
COMMUTER:
 The trees on westbound Willow Pass Rd. from Galindo to Fry Way block the sightline to see the traffic signals.  Are there any plans in the future to trim them?
–Linda H.
TRAFFIC JAMMER: Concord's hardworking Traffic Czar Ray Kuzbari has been pursuing this. "It turned out the subject trees belong to the Park & Shop shopping center," Kuzbari told the Jammer. "We have contacted Code Enforcement at Concord PD and asked them to notify the shopping center to trim the trees as required."
Linda H., or any other sharp-eyed Claycordians, could you be so kind as to let the Jammer know if those trees have been trimmed? If the signals are still blocked, it may be time to call Park & Shop.
COMMUTER: I often see police officers driving by themselves in the carpool lane.  I was under the impression that if not responding to a call that police officers had to observe the same laws as the rest of us.  I see the Vehicle Code addresses emergency vehicles using toll lanes, but I don't see any reference to HOV lanes.  This almost creates the impression that police officers are above the law.  Not a comforting thought.
–Concerned
TRAFFIC JAMMER: Here's the word from California Highway Patrol Officer Daniel Hill:
When people see police vehicles on the roads, rarely do they realize that the officer is usually responding to a call. Most people assume that police vehicles are only responding to calls when they see lights and sirens on. This response, which we refer to as a "Code 3 Response", is only justified if a call presents an imminent threat to life or property.
Police calls, on the other hand, fall mostly into the "urgent" category. Urgent calls require officers to respond without delay, as urgent calls will often escalate into an emergency if not handled promptly.
A specific example is a non-injury collision blocking traffic lanes. The officer must respond promptly because the blocked lanes could cause others to collide with the vehicles, thus potentially causing injury or death.
While your reader is correct that no specific exemption exists to permit single-occupant police vehicles to drive in HOV lanes, officers are usually responding to urgent calls which, if not attended to quickly, can lead to more property damage, injury or death.
COMMUTER:  I have a white standpipe in the corner of my yard with a blue lid on the ground nearby.  I think it is called a dry standpipe water hydrant and only the fire department can switch it on, my question is, should this pipe be treated like a regular hydrant and parking be restricted around it?  If so, how far on each side, 15 feet?  Thanks, 
 –ASG
TRAFFIC JAMMER: The Jammer turned to our resident Claycordian law enforcement officer, Officer Leo. Here's his response to ASG:
Do you live in a high-rise building?  Maybe a multi-use building with stores on the bottom and apartments on top?  Or at a multi-unit residence, like a condo complex or apartments?
It is very unusual in Claycord to have the standpipe (if that is, in fact, what it is) in your yard for the typical, single-family residence.  And the buildings I inquired about are the most common application of standpipes.
If it is a standpipe, then -yes-, the fire hydrant rules apply.  Local government can make an exception to the 15-foot rule.
It would not be the homeowners' responsibility regarding the parking or markings (red curb).  That's a joint effort between the fire department and the city.  Enforcement is by the police department.  Your only potential responsibility is to maintain access (landscaping) to the pipe.
I would call your water service provider (probably Contra Costa Water District or East Bay MUD) to determine what the pipe is for.
TRAFFIC JAMMER: That's it for this week – see you next Monday. Be sure to cruise by Claycord.com at 2pm for more traffic intelligence. Remember, whether you drive, walk, bike or hop Amtrak, BART or AC Transit, Traffic Jammer Janis Mara is here to answer your questions.
Send your questions to trafficjammin@claycord.com