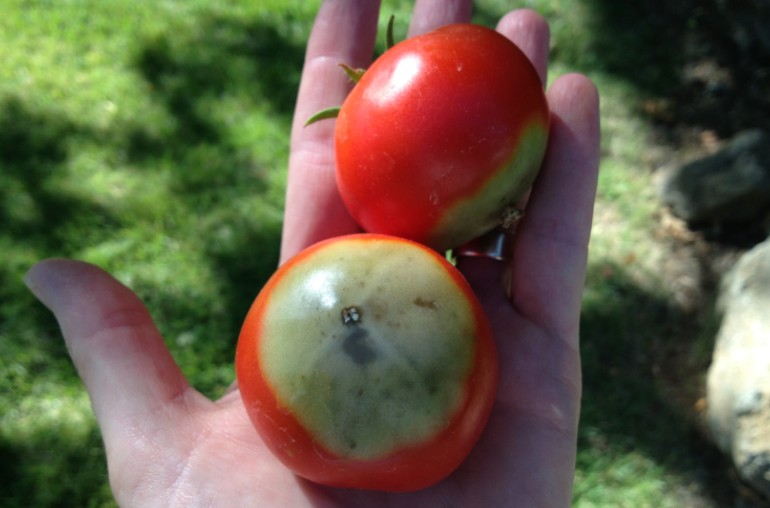 >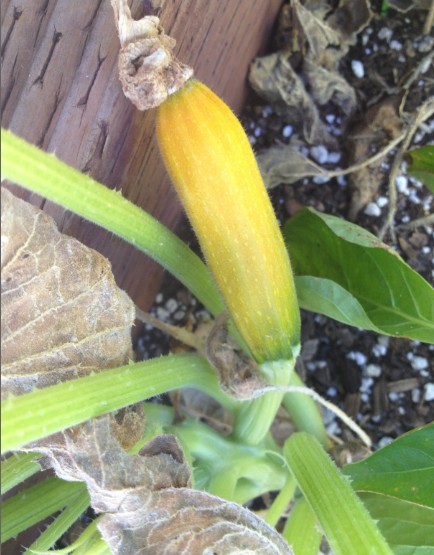 >
Those of us that are growing vegetables can have our share of problems. Blossom End Rot, lack of pollination, pincher-bugs, tomato hornworms and rats are some of the most complained about problems of vegetable growing in our Claycord home gardens. Some of these problems have simple remedies, while others have more of a cross your fingers approach. What works for you, may not work for me, what worked last year, may not work this year. Gardening is sometimes easy and sometimes a mystery.
Blossom End Rot is a dark, circular shape section rot found at the end of a squash, or on the bottom of a tomato. Blossom End Rot has two argued causes; some say it is a calcium deficiency, and other say its is caused by uneven watering. Once an individual vegetable shows signs of Blossom End Rot that particular piece is done. You should remove the infected vegetable before you waste your plant energy trying to ripen it.
If you see signs of Blossom End Rot, mix ½ teaspoon of Epson salt with water and thoroughly water into the soil surrounding the plant. A large size tomato plant may need an entire gallon of Epson salt infused water. You should repeat this process again seven days after.
Prevention of Blossom End Rot is encouraged. Applications of Agricultural Lime should be applied to soil in the earliest days of spring, well before planting. Carefully follow package directions for proper application. Those who home compost should incorporate egg shells in their mix. This way they'll have a nice bank of calcium in their composted material to be used when prepping the beds for vegetable installation. Also, some vegetable fertilizers have trace amounts of calcium in their formulas. Look for these types of fertilizers to use during the growing season.
Uneven watering is just that. It is inconsistent. It may mean that you may water daily, then miss a few days, stressing the plant. Perhaps when you water, you aren't applying enough, leaving your plants in a perpetual state of stress, never allowing them to fully hydrate. When a plant is stressed it is more likely to acquire problems of fungus and pest. Keep in mind tomatoes, and squash like deep watering once to twice a week.
Lack of pollination is problem that has no reflection of the color of our thumb. It means that a plant isn't showing male and female flowers at the precise time that a pollinizer (bee) is present. When the magic between flowers doesn't happen, vegetable yields won't happen. Years ago, at a Clayton Valley Garden Club meeting, one of the night's speakers told the group to encourage male and female blossoms you should crush some of the squashes foliage with your hands and leave the damaged leaf on the plant. This kind of aggravation may initiate the plant to produce male and female flowers. Telling which flower is which is simple. In the early morning, look in the center of a blossom. It is easy to tell. If you spot both a male and female flower one morning, take pollinating into your own hands and brush pollen from the male flower into the center of the female flower.
Pincher bugs have been chewing their way through the gardens of Claycord this growing season. It must be their year. Rolling up and taping tubes of newspaper can be effective. Lay to tube in the garden at night, and the Pincher bugs will crawl in to the tube in the morning. Simply throw the tube in to recycling in the morning. If that method isn't working for you, application of Sevin can be sprayed or spread depending on the form it is purchased in. If you want to use an organic product, use Spinosad, which is found as a spray, or a dust. Whichever product you use, please follow package directions.
Tomato hornworms are a problem that can come and go. Some years you have them and others you don't. Two products to spray on your plants are B.T. or Spinosad. They are both proven to eliminate tomato hornworms. If spraying isn't your thing, go hunting at night. Rumor has it that you can spot tomato hornworms on your plants if you shine a black light on them in the dark. They say the hornworms will glow. Let me know if that works.
Rats are a dirty secret of the vegetable gardening community. Rats have a taste for only the ripest fruit or vegetables in the garden. They would rather partially eat their chosen piece while it hangs on the plant and then move on to another fresh piece. Traps and netting the plants seem to work the best. Please do not use any poisons.
Now it's your turn. How do you care for your vegetable garden problems. What remedies would you like to share?
Happy Gardening.
Nicole Hackett is the Garden Girl at R&M Pool, Patio and Gardens, located at 6780 Marsh Creek Road in Clayton, 925-672-0207.
Nicole writes for the Clayton Pioneer Newspaper, and Claycord.com. She is also the Clayton Valley Garden Club 2012 President.

>