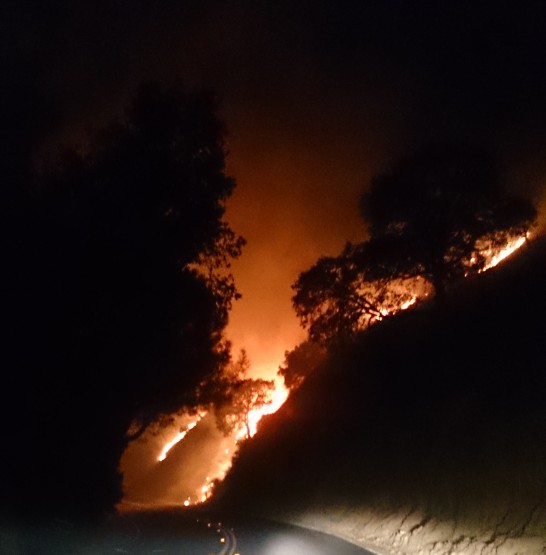 >
The fire on Marsh Creek Rd. near Aspara Dr. just east of Clayton is now 120-acres and 60% contained, according to CalFire.
CalFire also announced all evacuations on Bragdon Way have been lifted.
The blaze started on Friday night around 10pm after a vehicle crashed into a power pole, knocking power lines into the dry brush.
Marsh Creek Rd. will remain closed until at least 10am today due to the large amount of emergency vehicles in the area. Please use an alternate route.
Thanks to the anonymous Claycordian who sent the picture, which was taken right after the fire started.
For the latest information on this blaze, please visit the CalFire Marsh Fire Incident Page by clicking ON THIS LINK.
RELATED STORY: UPDATE: 100 Acre Fire Burning on Marsh Creek Rd. Near Clayton
UPDATE: Due to better mapping, CalFire now says the fire on Marsh Creek is 80 acres and 80% contained. They previously said the fire was 120 acres. Fire should be extinguished within the next few hours and the road should be back open shortly.