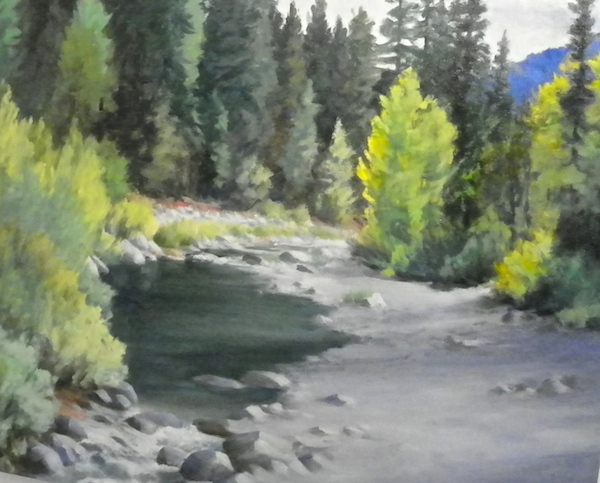 >
This month at the Art Cottage, you'll see a lovely selection of plein air paintings by a group from Artist Getaway, a Northern California vacation destination for artists.
For those of you who might be unfamiliar with the term, "en plein air" is French for "in the open air." It's used mostly to describe the act of painting outdoors. Natural light, fresh air and a scenic view provides so much inspiration for a painter to convey on canvas!
One of the featured artists, Ruth Beeve, lives in Concord. "I've spent a lot of time painting on location in the Sierra Nevadas – they are spectacular. I travel to the high country and paint that light as often as possible."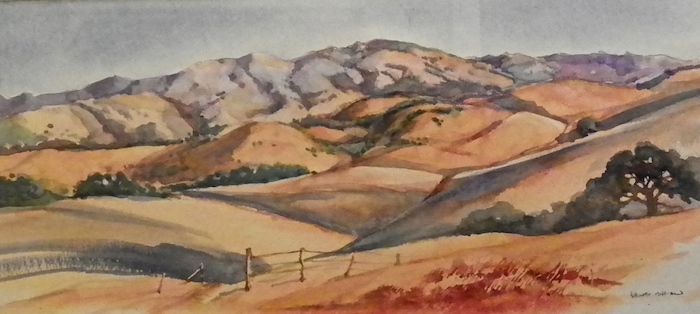 >
Bob Shaw prefers the challenges of working with watercolor over other mediums. "I prefer painting landscapes, with Calistoga and Yosemite being my favorite locations."
Pam McCauley used subtle shapes to capture the beauty of the historic Heceta Lighthouse, which is said to be the most photographed lighthouse in the U.S.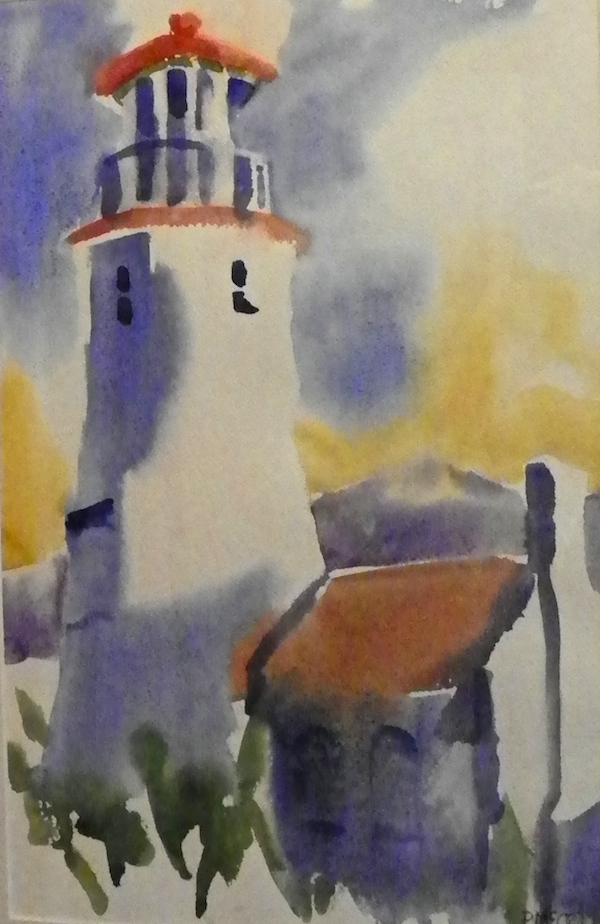 >
There are many more scenic landscapes in the exhibit, along with some terrific studio work, ceramics and jewelry. The Art Cottage is open 11:00am – 5:00pm, Tuesdays through Fridays, and 1:00-5:00pm on Saturdays.
Photo credits:
1.  Jamison Creek – Ruth Beeve, oil
2.  Diablo Vista – Bob Shaw, watercolor
3.  Heceta Lighthouse – Pam McCauley, watercolor
EVENTS
TONIGHT – Music & Market
6:30 – 8:00pm
Puro Bandido – Latin rock
Todos Santos Plaza, Concord
July 11-12
Chip and His Dog – Children's opera
Lesher Center for the Arts, Walnut Creek
July 13
4:00pm
Gregory Taboloff – Piano
Lesher Center for the Arts, Walnut Creek
Through July 15
Art as Pride
County Administration Building, Martinez
Through July 16
Celebration of Art
Antioch Historical Society Museum
Tuesdays in July
5:00 – 9:00pm
Off the Grid – Blues, Brews & BBQ
Todos Santos Plaza, Concord
Through July 26
Walnut Creek Centennial Paint Out
Valley Art Gallery, Walnut Creek
Saturday, July 19
10:00am – 4:00pm
Chevron Family Theater Festival
Lesher Center, Walnut Creek
July 18
6:00 – 9:00pm
Transportation – artist reception
Martinez Gallery
July 19
11:00am
Public art walking tour
Bedford Gallery, Walnut Creek
July 26
9:00am – 4:30pm
iXalt! Hula Dancing Class
New Life Campus, Concord
Now through July 26
Walnut Creek Paint Out exhibit
Valley Art Gallery
August 2
8:00am – 4:00pm
Martinez Peddlers Faire
August 2
1:00 – 3:00pm
Make a Skull Family Day
Bedford Gallery, Walnut Creek
August 17
10:00am – 5:00pm
Art in the Park
Plaza Ignacio, Martinez
Now through August 21
Janet Yelner, Mixed media exhibit
Shadelands Art Center
August 23
4:00 – 6:00pm
Local Produce – artist reception
Valley Art Gallery, Walnut Creek
Creative Space is a weekly column written by Lisa Fulmer that features local art events and performances, inspiring interviews with creative movers and makers, DIY how-to projects for you and our home, plus fun craft ideas for the whole family. Creative Space will be on Claycord.com every Thursday at 2pm.

As an avid creative junkie living in Concord, Lisa wants to make it easier for our readers to find ways to embrace creativity and celebrate the local people who are making it happen. In addition to her work as a writer and a marketing consultant, Lisa is a mixed media artist and a project designer for the craft industry.