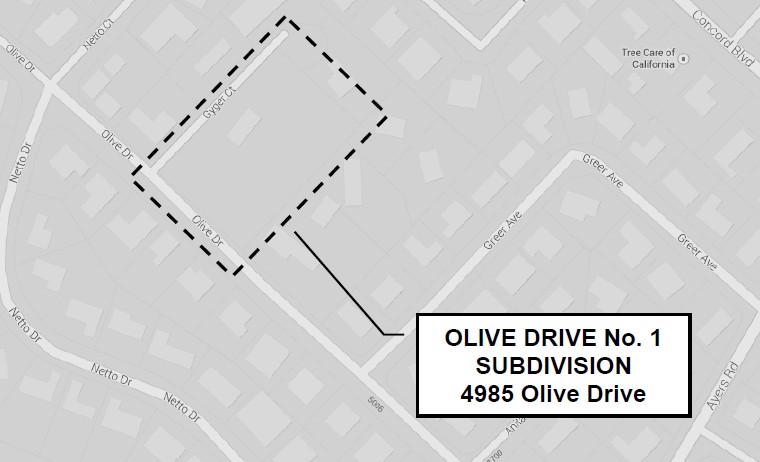 >
The City of Concord on Tuesday night is expected to approve a final map for a controversial six-home subdivision on Olive Dr.
On March 18, 2013, the developer, Jackie Seeno, submitted an application for a tentative map, tree removal, and design review to develop the proposed subdivision, located at 4985 Olive Dr., just past Greer Ave. The proposed subdivision consists of one 1.37-acre parcel, to be subdivided into a six-lot, single-family home development with a private road. On September 4, 2013, the Planning Commission approved tentative map, tree removal, and design review.
Neighbors have raised concerns about tree removal, drainage, sewer capacity issues and parking. The neighbors also requested larger lots with smaller homes, similar to other homes on the street. They also raised concerns about minimizing views and the impact on neighboring properties when the planned two-story homes are built.
Another big concern was barn owls. Neighbors said the owls have lived on the property since the 1950s, however, an inspection by a wildlife ecologist found that although it appeared owls were on the property within a few weeks of the inspection, no owls were currently living on the property.
Concord City Staff is recommending that the City Council approve the final map at tonight's Concord City Council meeting.