>
Traffic Jammin' with Janis Mara – Every Monday at 2pm on Claycord.com.
TRAFFIC JAMMER: Greetings, all! This Claycord.com column is for everyone who negotiates the highways and public transit of the Bay Area. It runs every Monday at 2pm and answers your commuting and transportation questions.
Email your questions to trafficjammin@claycord.com.
TRAFFIC JAMMER: Last week's column was one of the funnest ever, with almost 100 comments from Claycordians after the Jammer asked, "What is your favorite car song?"
Guess which song won? None other than that hilarious 1950s novelty song, "Little Nash Rambler," also known as "Beep Beep." Four people mentioned it. You can hear it on YouTube at THIS URL.
"Hot Rod Lincoln" got three votes and Dorothy made a brilliant observation: It's a rap song! Actually, I would describe it as being more in the "talking blues" tradition. "I Can't Drive 55" got three votes (does this count as a protest song?), Tracy Chapman's "Fast Car" got three and "Little Deuce Coupe" got three.
One of the votes for "Little Deuce Coupe" came from none other than our beloved Officer Leo! His other favorite is "Little Red Corvette." Thanks to all for participating!
COMMUTER: Drivers with placards don 't have to feed the meter? Why? Park close if you must but pay like everybody else. Yes and some of us with fixed incomes can still walk a bit.
–Wow
COMMUTER: Since there's no particular correlation between being physically disabled and being poor, I see no reason to exempt the disabled from parking fees. In fact, that policy in San Francisco has led to rampant abuse of the system. Time for that nonsense to stop.
–Sacto Rob
TRAFFIC JAMMER: In 1972, California began exempting disabled people from having to pay meter fees and honor posted time restrictions for parking. Frequent poster Killjoy pointed out, "Someone with one of those placards may not easily be able to get back to their car as quickly and nimbly as the rest of you/us to feed the meter."
The idea was to reduce transportation barriers for the disabled, but it also created an incentive for able-bodied people to use disabled placards illegally. So far, nobody seems to have come up with an alternative.
TRAFFIC JAMMER: A reader had a question about some worn-out Botts' Dots, and the Jammer is pursuing the question. In the meantime, ClayDen contributed the fascinating fact that a Dr. Botts invented the round raised pavement markers.
COMMUTER: Botts didn't invent the dots. He invented the adhesive that holds the dots down.
–DrDuran
TRAFFIC JAMMER: The Jammer first learned about Botts' Dots back in her days as the Queen of the Road and has huge affection for the fortuitously named roadway markers. According to Caltrans, "In 1953, Dr. Elbert D. Botts, working in the Caltrans materials testing lab in Sacramento, came upon the idea of using a raised pavement marker to help make the painted lines separating lanes last longer.
"The ubiquitous little buttons have since been adopted around the world. There are an estimated 20 million Botts' Dots in place today on California freeways and highways — a lasting legacy to Mr. Botts, who passed away in 1962."
That's the official word from Caltrans. Wikipedia describes the adhesive theory as "a common myth."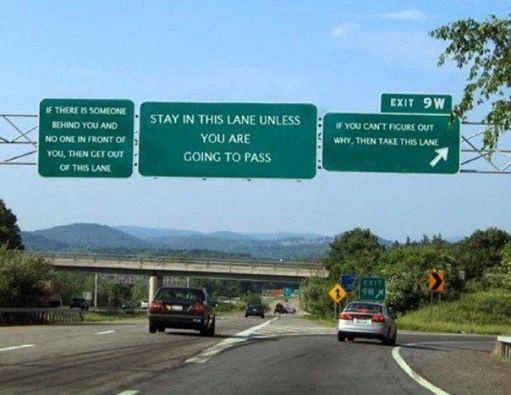 >
TRAFFIC JAMMER: This joke photo (above) ran last week, and a frequent poster had this comment:
COMMUTER: I think the sign above the fast lane is a little harsh. If there's no one in front of you but you are passing slower traffic on the right, I see no reason to get over until you have passed the slowpokes.
–RunnerDope
TRAFFIC JAMMER: Yes, that's an excellent point, RunnerDope. You're right. Not everyone in the passing lane (a) has zoned out (b) thinks it's fine to drive there indefinitely.
TRAFFIC JAMMER: That's it for this week – see you next Monday. Be sure to cruise by Claycord.com at 2pm for more traffic intelligence. Remember, whether you drive, walk, bike or hop Amtrak, BART or AC Transit, Traffic Jammer Janis Mara is here to answer your questions.
Send your questions to trafficjammin@claycord.com