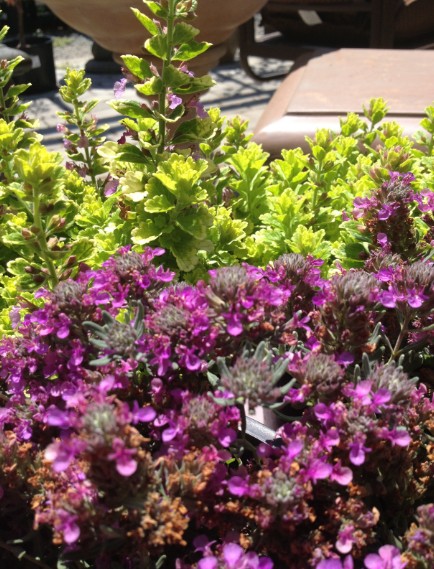 >
Teucrium cossonii majoricum and Teucrium chamaedrys 'Summer Sunshine' are both terrific evergreen groundcovers. They're perfect for any Claycord landscape, hillside or garden. Each is sun loving and heat tolerant, and both are exceptionally water-wise, needing very little irrigation once established. Along with their appealing attributes of drought and sun tolerance, both of these plants have showy flowers and contrasting foliage that will set your dryscape aside from the others.
Teucrium cossonii majoricum has a common name. It is sometimes referred to as false alyssum. I don't like to call this plant by the common name. I think it cheapens this evergreen making it seem more like an accessory plant rather than a foundation groundcover. Teucrium majoricum has small, powdery, gray leaves. They form a mat on the ground that may reach 3" high and 30" wide. This groundcover grows from a single root system, making it a great choice for both sprinkler and drip system irrigation. From June through August clusters of purplish-mauve flowers top the gray leaves. The flowers can reach 2" long. Once the flower begins to fade and turn brown, Teucrium majoricum will need to have the faded flowers sheared. Doing this will allow the ground cover to generate another long lasting surge of flower.
Teucrium chamaedrys 'Summer Sunshine' is a completely different looking groundcover when compared to its cousin Teucrium majoricum. 'Summer Sunshine' has bright chartreuse leaves that are slightly green towards the bottom of the plant and a touch golden towards the tips. Two-lipped mauve colored flowers line the top of the stems of 'Summer Sunshine'. As 'Summer Sunshine' matures it creates a pillow on the ground, reaching 6-8"tall and 30"wide.
Both of these selections look amazing when surrounded by dark colored bark or mulch. Their foliage contrasts nicely against the darkness making quite a statement. Consider installing either of the mentioned Teucrium in a rockgarden. They can tolerate the radiant heat from the stones. They are also great planted near red foliage plants and ornamental grass-like plants such as phormium or cordyline. Teucrium majoricum and 'Summer Sunshine' are highly bee attractive.
When installing either selection, there's no need to fuss with large amounts of soil conditioner. You also will not have any reason to fertilize. Plants like these just like to be left alone.
Happy gardening.
Nicole Hackett is the Garden Girl at R&M Pool, Patio and Gardens, located at 6780 Marsh Creek Road in Clayton, 925-672-0207.
Nicole writes for the Clayton Pioneer Newspaper, and Claycord.com. She is also the Clayton Valley Garden Club 2012 President.

>