Happy summertime to all of you pet loving Claycordians!
First, we wanted to invite you to follow and engage with us over at the Smart Paws Facebook page. There, we will continue to share events, adoptable animals, resources and more.
Secondly, we wanted to let you know that the Martinez shelter is running a promotion for the month of July. They are offering FREE spay/neuter for all pit bull or pit bull mix adoptions. The spay/neuter fee can be a large part of the adoption fee, so this can save A LOT! Pit bulls and the mixes overrun our local shelters. They are by far the most populous breed and the ones most likely to not make it out. There are just so many! They need our help. The shelters are FULL, and there are many dogs, of all breeds, facing a "review" date this week. "Review" means the shelter decides whether they'll be extended for adoption or rescue for another period of time, or they will be put down. I don't know for sure, but my guess is so many are up for review this week because they are anticipating yet another 4th of July influx of stray animals into the shelter.
REMEMBER, all the adoptable dogs at the shelter have been temperament tested and have volunteer feedback available. The volunteers and staff who spend time with, love and walk these dogs get to know them, and you can often get more insight on any dog simply by asking while at the shelter. You can spend time with any dog you're thinking of adopting. You can bring your own dog and your family. As always, I have to just say, please spay and neuter. Walking through the kennels at the shelter is a sobering experience.
Adopt today!
We will continue to feature available pets at our Smart Paws Facebook page and you can always search by zip code at www.PetHarbor.com. There are currently 50+/- dogs available at the shelter waiting for their forever home (my last column there were 30. They are full now and that only means bad things for the dogs). The shelter is located at 4800 Imhoff Place, Martinez. You can call them at (925) 335-8300. The dogs pictured here are all available but all need out this week. Visit the Smart Paws resource page to get the links to each of these dogs from Pet Harbor.

>
And given the upcoming 4th of July, we have the following important information from our friends at Fido Alert. Remember, Fido Alert is THE BEST place to network a lost animal and to see if anyone is missing a pet you have found. Check them out, and LIKE them, at Fido Alert – Claycord.  They also have a page for East Contra Costa and West Contra Costa. It is an incredible resource. Now, on to their important reminders:
It's July and the shelters start to take in an extra number of strays due to people setting off fireworks in their neighborhoods & scaring the unsuspecting pets.  In turn Fido Alert begins to get reports of more dogs on the run, cats darting out of homes & outdoor cats not coming home for food.  That is just in the days leading up to the big finale.  Last year we had over two dozen lost & found alerts to post on July 5th for pets spooked by fireworks & our following was much smaller at that time.  Despite our best efforts this year to forewarn pet owners we anticipate a larger influx of lost & found animals & in preparation & with the approval of the supervisor at Antioch Animal Services we will be stationed at the Antioch Shelter on Saturday July 5th to deal with & hopefully lessen the burden on one shelter when lost & found start flooding in.  We can never say it enough or post it on every page enough, but your pets should be indoors or securely kenneled during the nights when fireworks are prevalent in our County.  A distressed pet can jump a fence in fear & run for miles.  Blinded by fear there will be no regard for traffic & we do not like to see those posts on our page.  We encourage everyone to spread the word about Fido Alert, so that when the inevitable does happen this week pet owners have somewhere to turn to & hopefully be reunited with their lost pets.
And, while it has cooled off some in our area, the heat reminder just can't be said enough!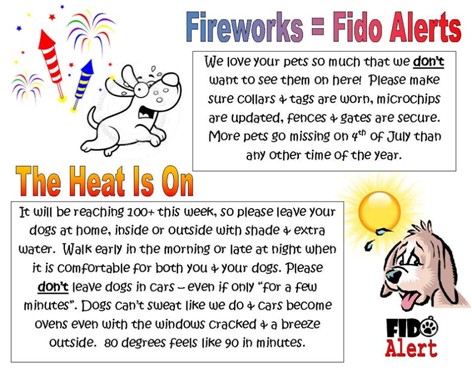 >