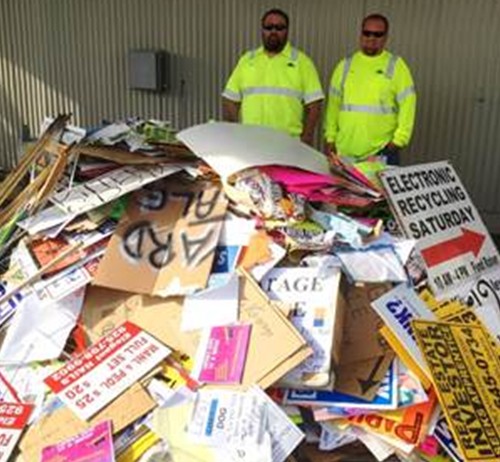 >
This is something Claycord.com has been bringing attention to for the past seven years, so it's nice to see the City of Concord has recognized the problem.
The following is from the City of Concord:
Concord is launching an awareness campaign to focus attention on a common problem – the posting of illegal signs on utility poles and streetlights for things such as garage sales, lost pets and business promotions.
These signs are often never removed and quickly litter the visual landscape. They detract from the appearance of neighborhoods as they fade and blow away, leaving behind tape, staples, nails, and other materials. They can sometimes present hazards for motorists and pedestrians if they block the view or obstruct walkways.
"We are asking residents for assistance," says Public Works Director Justin Ezell. "Please help keep your neighborhood clean by not posting illegal signs. Your streets will look better and the staff time required to take down the signs can be used for more important projects."
Recently, the Public Works Department removed more than 1,000 illegal signs during their normal work routine over a ten-week period. Although the program was successful, staff cannot solve the problem without the support of the community. Signs continue to be posted illegally throughout the City, requiring valuable staff time to remove them, and leaving streetlight and utility poles in an unsightly condition. Residents are being called upon to contribute to the solution by not posting illegal signs in public areas.
For more information, contact Ezell at Justin.Ezell@cityofconcord.org or call (925) 671-3231.