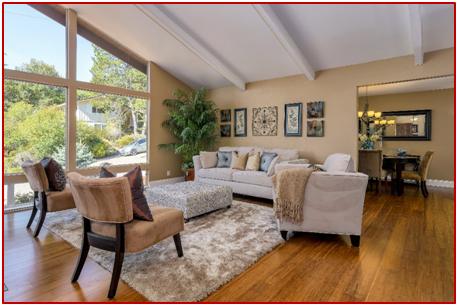 >
We've all heard that a "senior wave" is happening across America, affecting many businesses, including real estate. Adults aged 50+ represent more than 20% of the US population, and their homes are usually their largest asset, holding most of their net worth. Between today's seniors, the Baby Boomers, and the empty nesters – an increasing number of "mature" folks are selling and relocating to homes that they expect to live out their retirement in.
A senior's home sale may be different in a number of ways from moves that happen earlier in life. There are real estate tax breaks that seniors should be aware of, and there's helpful info available on what seniors should consider when selecting a new home, and preparing for their move. Here are some tips to launch your journey!
Propositions 60 and 90 – Tax Breaks for California Seniors Relocating within California
When seniors relocate, they are usually switching homes – selling and buying. If this is your situation, and you're age 55 or over and moving within California, you should take the time to understand Propositions 60/90. The California State Board of Equalization offers lots of great information here. You need to understand the details and check with your accountant, but here's a quick overview:
If you or your spouse sell a home in California at age 55 or older, Proposition 60 allows for the transfer of your tax base to the "replacement property" that you purchase within the same county. Proposition 90 allows transfers of your tax base from one county to another in California. However, each county decides whether to authorize such transfers – and so far only 9 California counties have currently allowed these tax base transfers (Alameda, Orange, San Mateo, El Dorado, Los Angeles, Riverside, San Diego, Santa Clara, and Ventura).
For both Props 60/90, the new home must be your principal residence, and must be equal to or lesser than the "current market value" of your current/original home – and you need to buy your new home within 2 years (before or after) of selling the first one. This is a one-time only benefit, friends! Once you've filed and received this tax relief, you can't claim it again. Read the fine print on the site linked above, confirm your intentions with your tax professional and educate yourself on the details so that you can take advantage of a very nice tax break for seniors!
Selling Your Primary Residence? Here's Another Tax Break
This applies to everyone, not just seniors – but remember, if you sell a home that you've owned and lived in for2 of the 5 years before the sale, then up to $250,000 of your profit is tax-free (if you're single) and up to $500,000 of your profit is tax free (if you're married and file a joint return). If your profit exceeds these limits, the excess is reported as a capital gain.
You can use this exclusion every time you sell a primary residence, as long as you've owned and lived in it for 2 of the 5 years leading up to the sale, and haven't claimed the exclusion on another home in the last two years.
What Do Seniors Want When They Relocate?
There's a lot of "conventional wisdom" out there, regarding downsizing and senior communities and so on, but in my experience some of this needs to be updated, especially for Bay Area seniors.
Today's seniors are a varied group! Many seniors are still working professionals, and their lifestyle involves commuting and all the standard needs of professionals. Others are retired, and may even need home care. Still others are retired and highly active. Your needs are unique – if you're a senior relocating, make sure your real estate agent fully understands you and your needs as you begin the house-hunting process.
A common misconception is that all seniors want to downsize. While seniors do want to increase the convenience aspects of a home … they may not want to downsize. Their professional life may be slowly decreasing, but they may need a home office or space for visiting grandkids. They may want less "home maintenance" duties and/or the connections that adult communities provide.
That said, if the home you're buying is the one you anticipate living in for the rest of your life, you should be realistic about your needs as you grow older and potentially deal with health and mobility issues. Home layout matters – conveniences like easy-to-access laundry areas and single-story living, walkways with bannisters, public transportation, nearby medical facilities, communities with high walkability factor, or near recreation/activities that you enjoy (like golf, or the beach), or HOA benefits like pools and greenbelt – these can all be important for Boomers and seniors to consider.
Location can be critically important for seniors. Try to imagine your world 5 years from now … is there an area that many of your friends are retiring to? Where do your children live? Don't underestimate the awesome power of grandchildren … when they arrive, you may be surprised at how much you wish to be near them so you can spoil them as much as possible!
Move Preparation … Organizing, Purging, Planning and Peace
Moving is always a headache, but if you've been lucky enough to own a home you love for a loooong time, the prep for a move may be an extra big undertaking. When seniors relocate it may mean leaving a home full of memories, a familiar neighborhood, and friends … It also means de-cluttering – letting go of lots of accumulated STUFF that you no longer need, but also giving away furniture, family treasures, and items of sentimental value. The reality is, there are going to be emotions, as well as a lot of work. So how do you get through it with style and aplomb?
Not in a rush? Start the de-cluttering now anyway! Half of your de-cluttering decisions are going to be easy, you just need to get started. Pick a small area of your home to focus on each week and make 3 piles – Toss, Sell, Donate. Just do a little at a time. Select a nonprofit and make donations. Have a garage sale!
Does it feel too overwhelming? Or are you expecting to sell and move soon? Consider hiring a professional organizer. Some specialize in senior relocations and know how to keep the stress factor low. Look on review sites like Yelp, ask your neighbors, or write to me – there are many organizers around the East Bay.
Do you have a game plan for your future home? A good sense of the location you're targeting and the size of home you'll buy? Once you have a clear vision, decisions will be much easier to make. If you're downsizing, it may be time to give some treasured items to relatives and friends.
Remember that a move is a new beginning. There are losses and there's the unknown … but there's also adventure, experiencing new things, and positive change. Purge some of that old stuff and lighten your load. When you've moved, maybe you'll want some new things anyway to enjoy in your new place. Bottom line is to be a savvy senior by doing your research and understanding the tax laws and tax breaks that can help you financially.
Until next time …
Nancy Bennett, Realtor, Keller Williams East Bay CalBRE 01399870
Nancy Bennett has over 20 years of sales and marketing experience, with 10 years selling real estate in the East Bay. She's an award-winning real estate agent in Contra Costa County, the #1 Realtor in The Crossings neighborhood, and heads up The Bennett Team – the leading real estate team at Keller Williams East Bay.
She is also a member of the National Association of Realtors, the California Association of Realtors, the Contra Costa Association of Realtors, the Fortune 400 Masterminds, and Contra Costa Realtors in Motion. She serves on the Agent Leadership Council, as well as being a faculty member and mentor to new agents at her office.
Nancy is a licensed foster parent and a volunteer with local organizations such as Meals on Wheels and Youth Homes in Walnut Creek.  For more information, please visit www.BennettBetter.com or reach Nancy directly at: Nancy@BennettBetter.com.