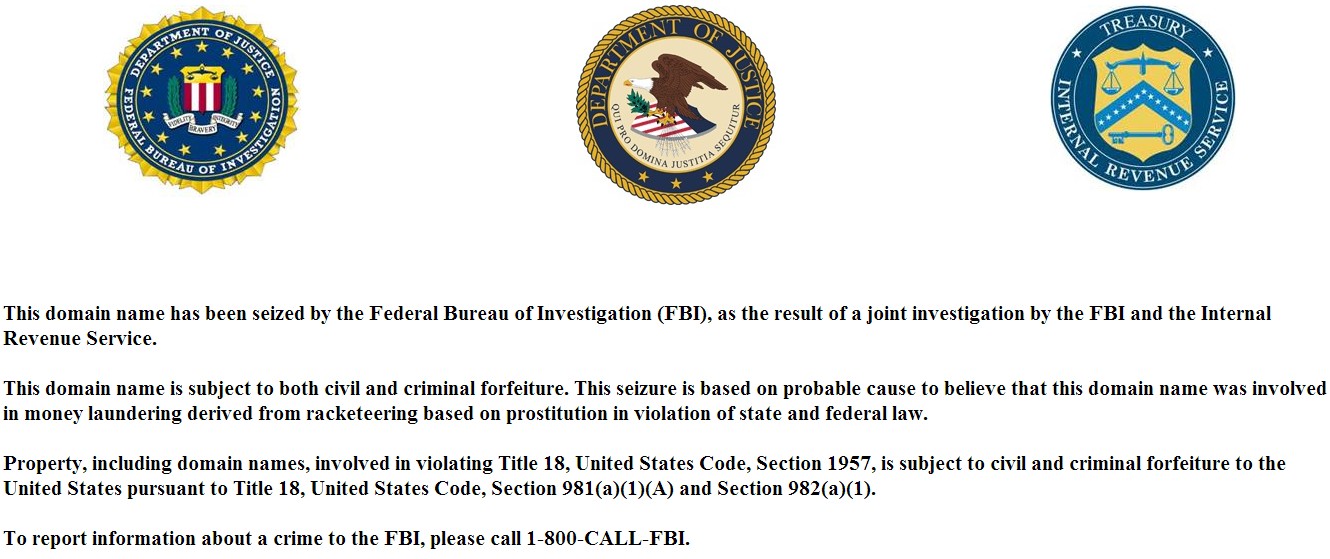 >
Two Bay Area-based websites were shut down by the FBI and the IRS today and the sites' two alleged proprietors appeared in federal court accused of facilitating prostitution and money laundering, according to the FBI and U.S. Attorney.
The sites MyRedBook.com and SFRedBook.com advertised free listings for services ranging from massage parlors, strippers, dominatrixes and escorts throughout the western U.S.
But U.S. Attorney Melinda Haag's office argued in a nine-page indictment released this afternoon that the sites were used primarily for advertising prostitution in violation of state law.
The site's two alleged proprietors — identified as 53-year-old Eric "Red" Omuro of Mountain View and 40-year-old Annemarie Lanoce of Rocklin — are accused of facilitating prostitution using interstate communication and laundering more than $5 million in revenue from the sites since 2010, according to Haag's office.
The site would charge fees for premier placement of ads and for "VIP Membership" to access special services on the site such as private forums and better search features, according to Haag's office.
Omuro is accused of using numerous aliases to move funds from the site into his control. The indictment seeks the forfeiture of more than $5 million in assets including bank accounts at four different banks, investments, a BMW and a Mini Cooper.
The FBI conducted several raids this morning connected to the case, according to FBI spokesman Peter Lee. One of the locations was the 200 block of Houghton Street in Mountain View, an address apparently associated with Omuro.
The two made an initial appearance in the federal courtroom of U.S. Magistrate Judge Nathanael Cousins in San Francisco this afternoon, U.S. Attorney's spokeswoman Lillian ArauzHaase said.
Omuro was released on $500,000 bail and is due back in Judge Cousins' court for identification of defense attorney and entry of a plea at 9:30 a.m. Friday.
A status conference is scheduled for July 10 before U.S. District Judge William Orrick, the trial judge assigned to the case.
Bay Area sex worker advocates expressed concern today that the seizure could affect sex workers' livelihood and safety — including those doing legal work.
Oakland-based sex worker rights advocate Sabrina Morgan said that MyRedBook helped sex workers to screen and protect themselves from potentially violent clients and that its absence could put already vulnerable women in danger.
She said that in addition to providing listings, MyRedBook enabled sex workers to talk to clients before meeting them and to talk to other sex workers about potential clients for referrals.
The site contained both a public forum and a private forum just for workers.
"Clients on the site would need references," and a good reference from another worker was an indication that a particular client was safe to see, she said.
"Taking the site offline means that type of networking and resource sharing is pushed further underground," Morgan said.
While other websites offer similar services, there is nothing remaining like MyRedBook, Morgan said, as others charge a fee to create listings and operate on a national scale.
Kristina Dolgin, a spokeswoman with the Bay Area chapter of the Sex Worker Outreach Project, said that the loss of MyRedBook as a free resource for sex workers could put an already marginalized community further at risk.
"They're going to have less safe interactions and be put into situations where they can be put at risk of violence," Dolgin said. "To those who can't afford switching to another website, this is completely detrimental."
Some members of the Sex Worker Outreach Project are consulting with attorneys out of concern that the FBI's targeting of MyRedBook could lead to charges filed against them.
Dolgin said the FBI might have gained IP addresses, phone numbers, email addresses and other personal details of Bay Area sex workers. "It's a very scary thing," she said.
The site has previously been used as a law enforcement resource for investigators targeting pimps and human traffickers. Officers have posed as clients or offering services in order to arrange meetings and make arrests.