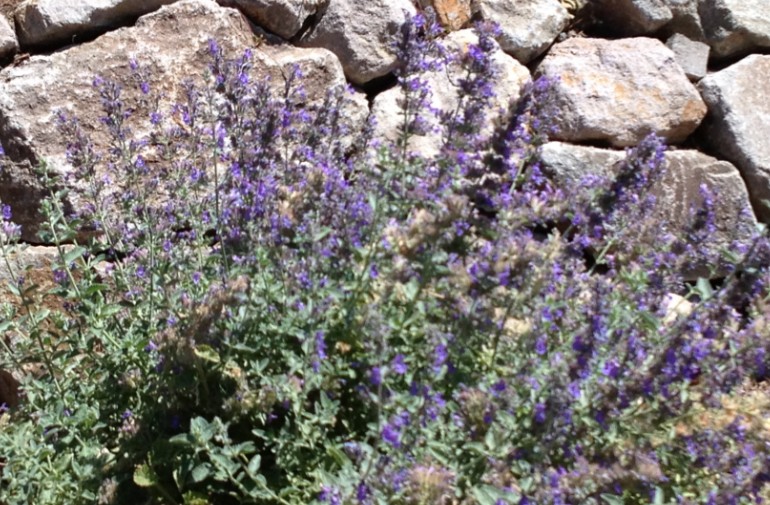 >
Nepeta Six Hills Giant is a summer showstopper with its icy gray foliage and periwinkle flowers. It is heat hardy, sun loving and water-wise, making it a more than desirable selection for any Claycord landscape, container or garden. It is very predictable and is also recommended by the Contra Costa Water Department and East Bay Mud as a drought tolerant perennial.
Nepeta Six Hills Giant is one of the tallest in the Nepeta family. It can reach 30" tall and about half as wide. Other fabulous family members to Six Hill Giant is 'Walker's Low', a former perennial of the year, 'Blue Wonder' and 'Snow Flake' with pure white flowers.
This plant is a herbaceous perennial. This means that this plant has a period growth, a period of bloom, and a period of rest. Nepeta reemerges from the ground in March, and begins to grow. Once spring starts to heat up, Nepeta begins to flower. The flowers cycle, and with deadheading, Nepeta can bloom off and on the entire growing season. That means your plants will bloom from May through early October.
Use Nepeta in the landscape to accent foundation plants like phormium, rose bushes, crape myrtle, agapantha, and lavender. It also can be used to accent hardscape. Install Nepeta along a retaining wall, or next to a decorative boulder.
Nepeta attracts honeybees and can be utilized if planted near a vegetable garden, or fruit trees.
Nepeta is commonly called Catmint. The aromatic foliage is very tempting to our feline friends, they love to rub and chew Nepeta's leaves, so you may want to consider that when you pick the spot to install.
Nepeta thrives in our soil and climate. It is a wonderful consideration.
Happy gardening!
Nicole Hackett is the Garden Girl at R&M Pool, Patio and Gardens, located at 6780 Marsh Creek Road in Clayton, 925-672-0207.
Nicole writes for the Clayton Pioneer Newspaper, and Claycord.com. She is also the Clayton Valley Garden Club 2012 President.

>