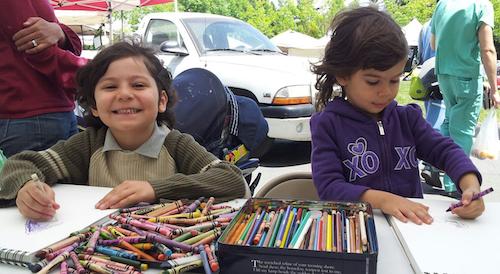 >
Art of Health and Healing is a local organization that works to improve health and wellness through the arts. Led by a physician and health psychologists in-training, with financial support from the Contra Costa Regional Health Foundation, AHH runs several volunteer-driven programs throughout our county to show just how healing creative expression can be.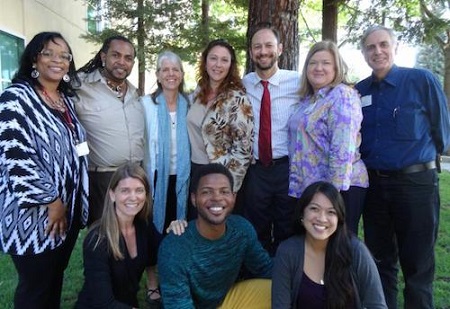 >
Art N' the Lobby is a weekly forum held at the Contra Costa Regional Medical Center in Martinez (Tuesdays 12-1pm) where artists and patients, as well as the general public, come together to discuss important health issues, share their art and learn more about the role art plays in health and healing.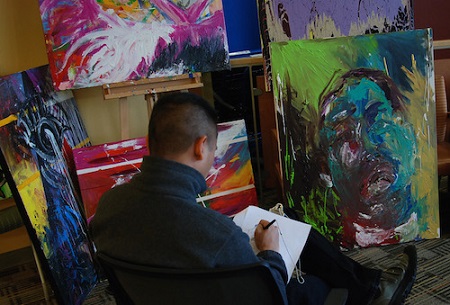 >
Patients and their families have opportunities to create when the AHH Art Carts roll down the hall at the CCRMC. Other programs include bedside expressive arts therapy, therapy dogs, and loaner iPads filled with music, video and visual art for cancer patients to use during chemo treatments.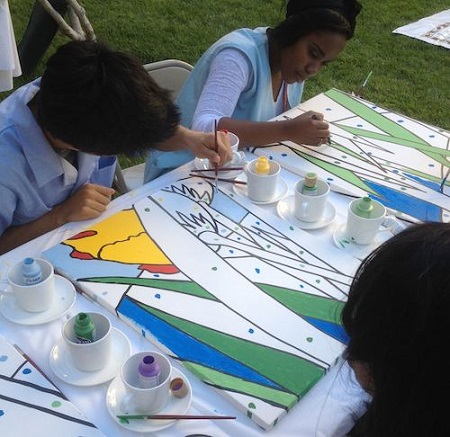 >
Every Tuesday this summer, you'll find AHH volunteers at the CCRMC Farmers Market leading art projects for both kids and adults from 10am to 2pm. Look for me at the AHH table in July!
Click here to read the latest AHH newsletter and click here to like their Facebook page.
EVENTS
TONIGHT – Music & Market
6:30 – 8:00pm
The Sun Kings – Beatles Tribute Band
Todos Santos Plaza, Concord
June 19
6:30 – 8:30pm
Art as Pride – Artist reception
Exhibit runs through July 15
Contra Costa County Admin Building, Martinez
Now through June 27
Diablo Valley Camera Club Photography Exhibition
Art Cottage, Concord
Now through June 28
Virtuosity Goes Viral – exhibit
Lafayette Art Gallery
June 21
11:00am – 5:00pm
Artists Market
Lafayette Art Gallery
June 21
11:00am
Public art walking tour
Downtown Walnut Creek
June 21
8:00pm
Tuck and Patti – Jazz
Lesher Center for the Arts, Walnut Creek
June 24
10:00am – 2:00pm
Art table at the CCRMC Farmers Market
June 25 – July 6
Ella – The Musical
Lesher Center for the Arts, Walnut Creek
June 27
8:00pm
Juneteenth Dance Celebration
Diablo Valley College Theater, Pleasant Hill
June 28
8:00pm
Juneteenth Dance Celebration
California Theater, Pittsburg
Tuesdays in July
5:00 – 9:00pm
Off the Grid – Blues, Brews & BBQ
Todos Santos Plaza, Concord
Now through August 12
Art Exhibit
Seema Mahboob, artist & Lois Andreotti, ceramicist
Shadelands Art Center
Now through August 31
The Skull Show
Bedford Gallery, Walnut Creek
Creative Space is a weekly column written by Lisa Fulmer that features local art events and performances, inspiring interviews with creative movers and makers, DIY how-to projects for you and our home, plus fun craft ideas for the whole family. Creative Space will be on Claycord.com every Thursday at 2pm.

As an avid creative junkie living in Concord, Lisa wants to make it easier for our readers to find ways to embrace creativity and celebrate the local people who are making it happen. In addition to her work as a writer and a marketing consultant, Lisa is a mixed media artist and a project designer for the craft industry.

Visit her blog to see more of Lisa's own creative space.