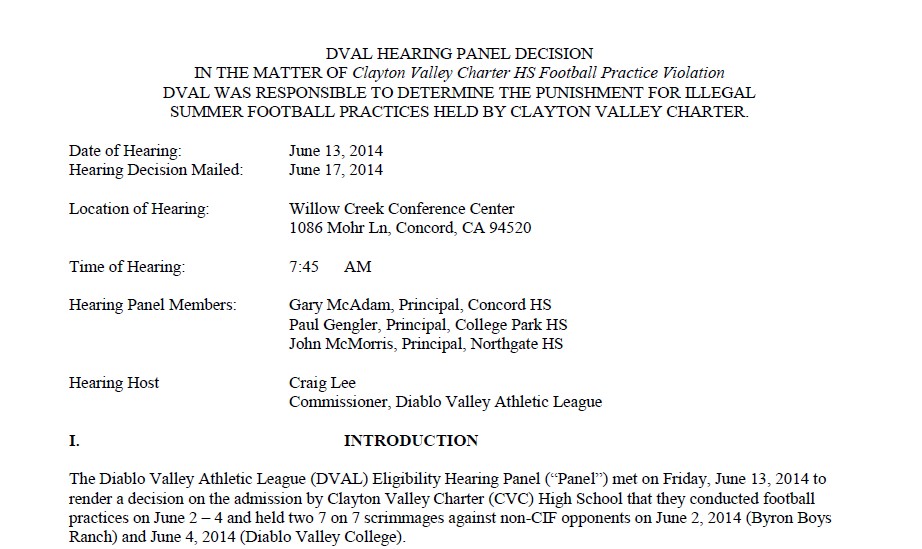 >
The Clayton Valley Charter High School football team will be forced to cancel six practices before the start of the season after a panel of three Diablo Valley Athletic League (DVAL) Principals found the charter school conducted illegal practices and scrimmages, according to the DVAL.
The three illegal practices were held on June 2-4, and the two illegal scrimmages against the Diablo Valley College football team and the Byron Boys Ranch High School football team were held on June 2nd and June 4th, according to DVAL Commissioner Craig Lee.
The DVAL Hearing Panel has concluded that:
1. Clayton Valley Charter must give up six total practice days at the start of the official season next August. They may start football practice on August 18, 2014. This is based on NCS Bylaw 103H A, which states that they must forfeit more days of practice than they gained by starting early. Four of the days are a result of the three illegal practice days and the additional two days are due to the illegal DVC scrimmage.
2. Clayton Valley Charter High School will be placed on probation for one year, beginning June 15, 2014. During this time CVC must demonstrate that their coaches are being instructed on the NCS rules, especially as they pertain to practices. They also need to put in place and document administrative procedures to insure that no coaches are practicing illegally and that coaches are not requiring their players to attend summer practices. If it is determined that CVC is in violation of NCS rules during their probation they will be ineligible to participate in DVAL or NCS post-season play in that sport. If a second violation occurs they may be declared ineligible to participate in post-season play in all sports for a period of one calendar year.
According to the NCS Constitution & Bylaws, there shall be no football games until the squad has had 14 days of practice before the first game, which means CVCHS will also have to cancel their first game of the season, the Honor Bowl, against a high school from Carson, NV. The game was supposed to be played in Loomis, CA.
The panel of principals included Gary McAdam, Principal, Concord High School, Paul Gengler, Principal, College Park High School, and John McMorris, Principal, Northgate High School.
To read the entire decision by the DVAL, please click ON THIS LINK.