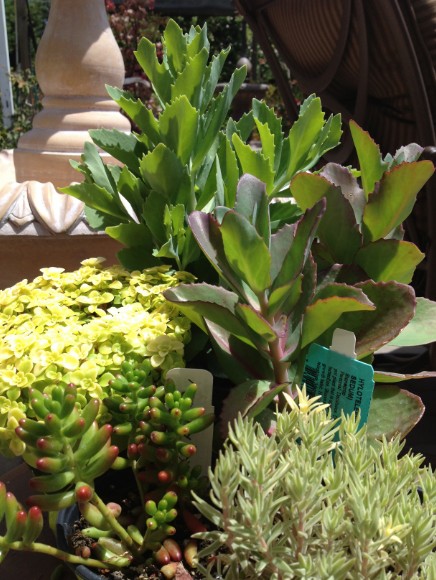 >
It's Sedum Season! This hardy family of perennials and evergreens resemble the very popular succulents, yet they're far more sun loving and not so picky if occasionally watered too much. Sedums are sensational, and any garden lover interested in growing something easy with unique foliage and attractive flowers should consider one of the sedum family members in your next landscape or container installation. All sedum are deer resistant, and drought tolerant.
Sedum Autumn Joy is a simple joy to grow. This long-lived perennial sedum is extremely durable. Sedum Autumn Joy grows to 2' tall and eventually as wide. Sturdy, thick, fleshy stems are a medium green color. The bloom of the Sedum Autumn Joy looks like a large head of broccoli, but rather than flowing green, the bloom is a dark pink that ages to a deep brick red. When blooming bees and butterflies are very attractive to the flowers, and I've been known to refer to the bloom as bee and butterfly landing pads. You will enjoy the flowers on Sedum Autumn Joy from July through September. Sedum Autumn Joy is a herbaceous perennial. This means that this plant will grow through spring, flower through summer and rest during winter. Resting during the winter months insures this perennials frost hardiness.
October Daphne is another excellent variety of sedum. This selection has gray-based flesh-like foliage with a surrounding margin of pink. October Daphne isn't a groundcover or an upright, but something in between. You can expect 9" of height and about 18" of width from this sedum. Blooms appear in August and continue through early October, where you will see small clusters of pink flowers resting on the ends of the stems. October Daphne looks fabulous in a shallow, shapely container placed on plant stand, or table. This plant is winter herbaceous, so expect it to rest throughout the winter.
Sedum Vera Jameson is another selection of sedum that isn't either a groundcover or an upright. Your Vera Jameson will reach 12" tall and 2' wide. The foliage color of this sedum is a bronzy-pink, and the flower clusters are large broccoli heads of deep pink. This plant is stunning, and worthy of any perennial bed where you want some late season color, or a dry creek bed. Plant near a decorative boulder, you won't have to worry about the reflective heat with any of the selections of sedum.
Speaking of red foliage, Sedum Turkish Delight has a deep red to rose colored flesh-like foliage. The Turkish Delight is an upright sedum with smaller sized clusters of pink flowers. This sedum is a new introduction, so garden lovers have sought it after all growing season long. Nestle piles of Turkish Delight Sedum where you have your Maynight Sage or Arctotis Pink Sugar, or Pumpkin Pie planted. The summer flowers will make a nice companion to the spring blooming sage and arctotis.
The sedum family has a lot of selections for those garden lovers that are looking for water-wise groundcovers. Sedum Cape Blanco is a California native selection that has small rosette shaped flesh-like leaves that are a powdery gray color. During the spring months the Cape Blanco Sedum will have yellow flowers. Sedum Angelina is a lemon yellow foliage selection of sedum that has yellow summer flowers. Sedum tetractinum is commonly called Chinese Sedum and this groundcover has flesh-like foliage in a combination of colors from deep green to dark bronze. The color scheme looks rich, and would be a nice companion when installed with the bright chartreuse colored Golden Sunset Breath of Heaven. Sedum Ogon is another lemon yellow sedum with small round leaves. This particular sedum can tolerate part sun, which is unusual for this family, since most need full sun to thrive. All of these mentioned groundcover sedum stay evergreen in our Claycord winters.
It is Sedum Season fellow garden lover. Open your eyes and consider installing some of the members of this family in your Claycord landscape, garden or containers. It is a perfect plant for our environment, thrives in our heat, sun and needs very little water.
Happy Gardening!
Nicole Hackett is the Garden Girl at R&M Pool, Patio and Gardens, located at 6780 Marsh Creek Road in Clayton, 925-672-0207.
Nicole writes for the Clayton Pioneer Newspaper, and Claycord.com. She is also the Clayton Valley Garden Club 2012 President.

>