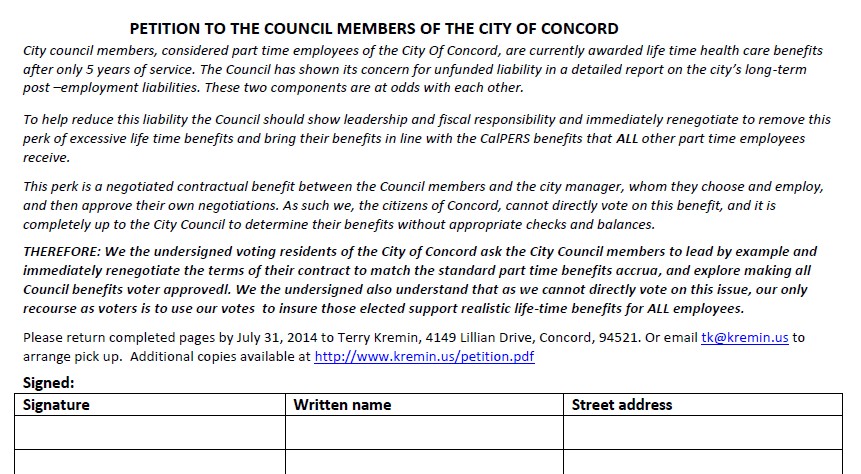 >
Former Concord City Council candidate Terry Kremin has started a petition to try and end the lifetime heathcare perk given to each Concord City Councilmember after at least five years of employment with the City of Concord.
Kremin released the following information to Claycord.com on Monday….
Help wanted: Part time, flexible hours, lifetime healthcare after five years of employment! Sound too good to be true? It SHOULD, but this is exactly what the members of the Concord City Council award the members of the Concord City Council. That's right – they negotiate that benefit with the city manager, and then get to approve their own benefit negotiation with a person they chose and hired, and who they get to set salary and benefits for. Wondered about run away city manager salaries? Now you can stop wondering.
This sounds appropriate for dignitaries with entitlement issues, but it sure doesn't sound right for public servants, especially ones constantly talking about how we have to reduce the city's unfunded liabilities. Simple – start with your own benefits – that is something you can very easily renegotiate and have full control over!
I keep hearing "it's complicated." Not really. No more than any other contract negotiation – it is only as complicated as the people involved make it. If Concord Police officers came forward and offered to cut their long term benefits in half, I guarantee you it would happen fast, and would not be "complicated".
This has been an issue in the last two elections. But then somehow seems to disappear after the election. Two incumbents will be getting their five years in if re-elected – maybe after they get theirs they will talk about ending it? It is time it ends now. We have waited long enough, and it seems clear that individual comments are falling on deaf ears.
Regretfully, we the voters have no direct say in the city council's benefits and compensation (something that needs to change), and our only option right now is to ask them nicely to remove this ridiculous perk. Even a question on the ballot would only be a suggestion and nonbinding (but cost the city to put on the ballot). That is why I am circulating these petitions (http://www.kremin.us/petition.pdf). Please download a copy and distribute widely. There are directions on the form on getting them back to me. Maybe if we can get enough signatures asking nicely they will reconsider and alter their benefit package.
Hey, I am an optimist. If not, we have only one other option come November. Once I hit a critical mass of signature, I will announce when they will be presented to the City Council. Current plan is first council meeting of August, Once it is set, I hope you will join me in presenting them to the council.
Your thoughts?