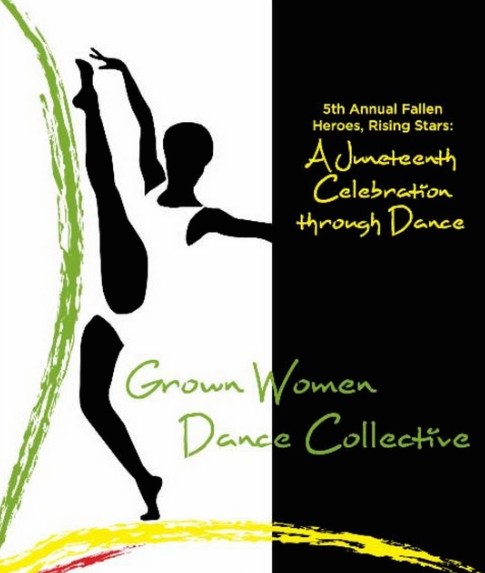 >
The Grown Women Dance Collective was founded in 2009 for professional female dancers to come together after they "retire" and create beautiful performance art. Based in Concord, the GWDC works to create cross-cultural and cross-generational bridges through the arts, by introducing concert dance to diverse audiences while challenging the stereotypes of aging.
On June 27th and 28th, they're performing their 5th annual production of Fallen Heroes, Rising Stars: A Juneteenth Celebration Through Dance, sponsored in part by Diablo Valley – Defying Expectations (details below in the Events listing).
Juneteenth is a national commemoration of African-Americans' liberation from slavery – celebrating their freedom and encouraging respect for all cultures. This dynamic multi-media dance concert pays tribute to Juneteenth and honors several influential African-American musical artists who we've lost in the last 14 years, including Michael Jackson, Whitney Houston and Ray Charles. It promises to be an exciting and uplifting evening!
Accompanying the dancers this year is 86-year-old drummer, Elayne Jones of Rossmore, who will play the timpani. Elayne was the first African American, as well as the first woman, to play for the Metropolitan Opera in New York. She was also the first African American to play for the San Francisco Symphony.
Below is a 2012 CBS interview with GWDC's Artistic Director, Tonya Amos, in which she describes the passion and history behind this must-see show.
While you're in the lobby of either theater, be sure to check out the historical photographs like this one below, on loan from the traveling exhibit, Quest for Identity.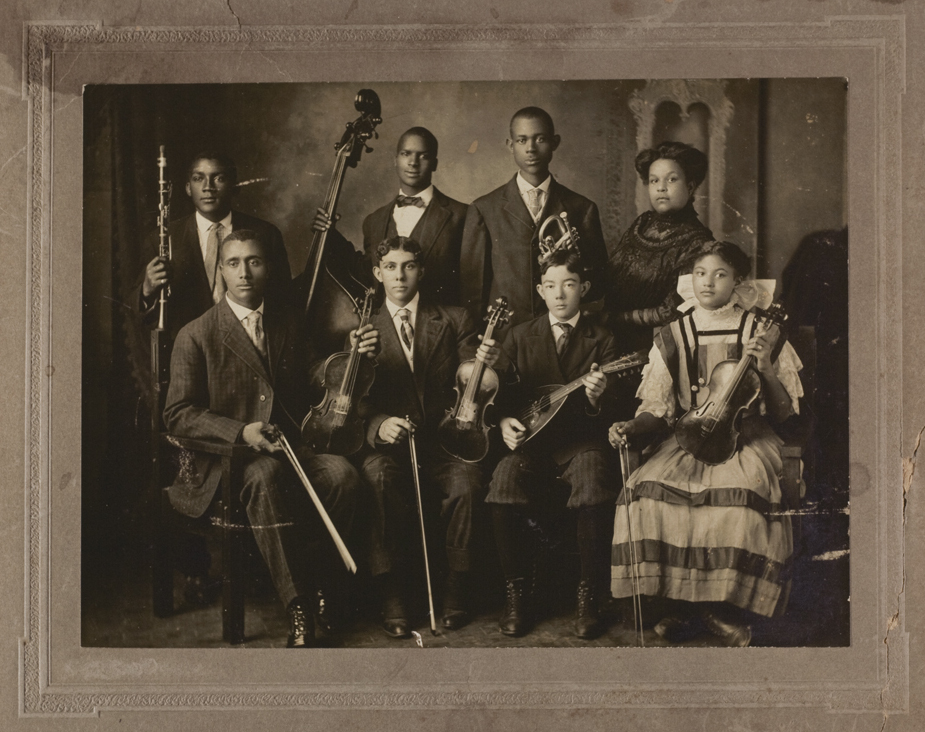 >
Visit the GWDC website for ticket information and details about making tax-deductible donations to keep this non-profit group dancing for joy!
EVENTS:
TONIGHT – Music & Market
6:30 – 8:00pm
Gator Nation – Soulful Cajun
Todos Santos Plaza, Concord
June 6 
6:00 – 9:00pm
Free To Be 3 – Art Show Reception
I've Been Framed Gallery, Martinez
June 7
2:00 – 5:00pm
Diablo Valley Camera Club Show Reception
Art Cottage, Concord
June 7
7:00 – 9:00pm
Belonging – art exhibit reception
Jennifer Perlmutter Gallery, Lafayette
June 8
1:00 – 3:00pm
Annual Student Art Show
M.J. Studios, Pleasant Hill
June 12
6:00 – 8:00pm
Reception – The Skull Show
Bedford Gallery, Walnut Creek
June 14-15
King of the County Music Festival
Martinez Waterfront Park
June 19
8:00 – 10:00pm
Duo Gadjo – Jazz with a French Twist
Armando's, Martinez
June 21
11:00am
Public art walking tour
Downtown Walnut Creek
June 21
10:00am – 3:00pm
Flip Flop into Summer – Craft Boutique
Martinez Senior Center
June 21
Concert for Canines – Fundraiser for EBARR
Solar Wind Band
Vinnie's Bar & Grill, Concord
June 27
8:00pm
Juneteenth Dance Celebration
Diablo Valley College Theater, Pleasant Hill
June 28
8:00pm
Juneteenth Dance Celebration
California Theater, Pittsburg
Now through July 19
Wicked Botany – art exhibit
Community Art Gallery
Walnut Creek Library
Now through August
Homing Cheung – Art Exhibit
Mazzei Realty, Clayton
Creative Space is a weekly column written by Lisa Fulmer that features local art events and performances, inspiring interviews with creative movers and makers, DIY how-to projects for you and our home, plus fun craft ideas for the whole family. Creative Space will be on Claycord.com every Thursday at 2pm.

As an avid creative junkie living in Concord, Lisa wants to make it easier for our readers to find ways to embrace creativity and celebrate the local people who are making it happen. In addition to her work as a writer and a marketing consultant, Lisa is a mixed media artist and a project designer for the craft industry.

Visit her blog to see more of Lisa's own creative space.