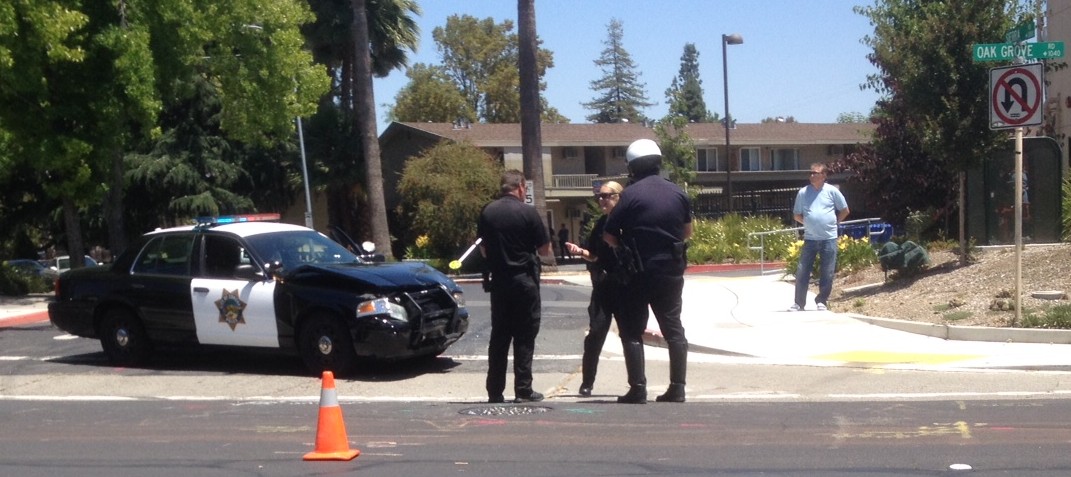 >
A Concord police officer en route to an emergency call suffered minor injuries when a suspected drunk driver crashed into his patrol car this afternoon.
Police said the officer was driving north on Oak Grove Road around 12:40 p.m. with the patrol car's emergency lights and sirens on when the driver of a Ford Fiesta made an illegal left turn in front of his car. The officer was unable to avoid the Ford and broadsided it, according to police.
The officer suffered minor injuries and was taken to a hospital as a precaution.
Police said the driver of the Ford Fiesta, identified as 45-year-old Margaret Collins of Concord, was uninjured in the crash.
After further investigation, officers determined that Collins had been driving under the influence of alcohol at the time of the crash.
She was arrested on suspicion of DUI and taken to the Concord Police Department Jail. Police said she would be cited and released.
The investigation into the collision is ongoing.
Thanks to Casey for the picture.
RELATED STORY:PICTURE: Concord Police Officer Involved in Head-On Crash on Oak Grove Rd.