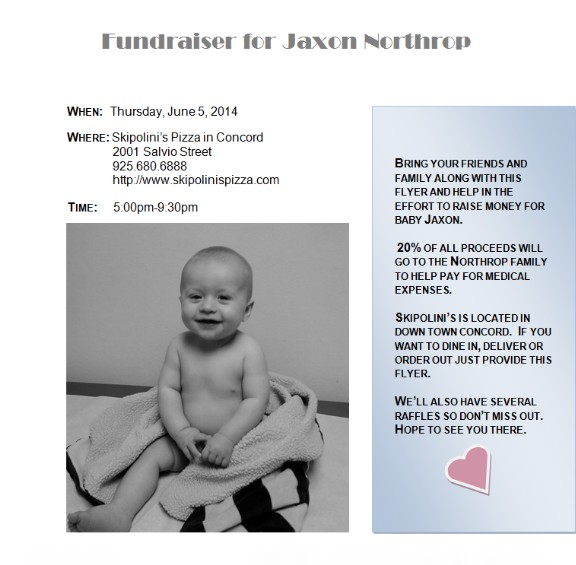 >
The following information is from a friend of the Northrop family, whose baby boy Jaxon almost drowned on Mother's Day in Concord.
I wanted to reach out to you in hope you can help me with an upcoming fundraiser for baby Jaxon Northrop. This fundraiser is to help raise money for hospital bills since you can imagine what those can add up to.
As a reminder, baby Jaxon was the 9 month old baby who nearly drowned in the pool on Mother's day. Although it was reported that he was stable and ok, that's fairly general when in fact, he was recently transferred from Oakland Kaiser PICU to Children's Hospital where he's undergoing Physical Therapy.
Yes, he's still in the hospital and for the first week, he was battling for his life.
He's a warrior, a boy with so much strength backed up with love and support from family, friends and so many prayers. The family thanks everyone for the blessings they've received through this trying time.
This Thursday, June 5th a fundraiser for baby Jax will be at Skipolini's Pizza in downtown Concord.
20% of all proceeds will go to baby Jaxon, so please be sure to bring the flyer.
We'll also be having a raffle that you don't want to miss. Tickets to major sporting events, car details, free haircut and colors and much much more.
It will be Music at the park that evening so please join us for pizza or just come by and check out the raffle. If people are not able to make the fundraiser, I ask if you can please help the family if not with donations but more prayers, anything will be appreciated.
A bank account has been opened up in Jaxon's name (see below). If anyone has interest in contributing financially to assist with the medical bills and living expenses for this family, it would be much appreciated.
Western Healthcare Federal Credit Union
5442 Ygnacio Valley Rd.
Concord 94521
Name: Jaxon Northrop
Acct No: 9921010