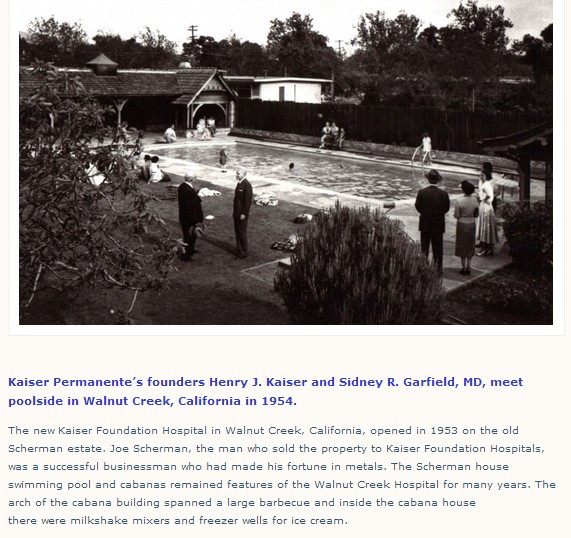 >
This is one of the greatest historical videos that we've ever featured on Claycord.
The video promotes Kaiser Hospital in Walnut Creek, in 1953'ish! The hospital has x-ray machines, a pool, ashtrays & baby drawers (times sure have changed).
Although the video doesn't mention the words "Walnut Creek", you can tell it's Walnut Creek by matching up the picture of the pool shown below the video with the pool in the video, and also, the image Henry Kaiser holds up in the beginning of the video is exactly how Kaiser in Walnut Creek used to look.
video: courtesy of http://archive.org/details/DreamHos1950
photo: courtesy of http://kaiserpermanentehistory.org/tag/swimming-pool/
ABOUT THE CLAYCORD ONLINE MUSEUM: The Claycord Online Museum is made up of historical photos, documents & anything else that has to do with the history of our area.
If you have any old photos or items that you'd like to place in the Claycord Online Museum, just scan or take a photo of them, and send them to the following address: news@claycord.com. It doesn't matter what it is, even if it's just an old photo of your house, a scan of an old advertisement or an artifact that you'd like us to see, send it in and we'll put it online!
Click on the tag below titled "Claycord Online Museum" to view other items!