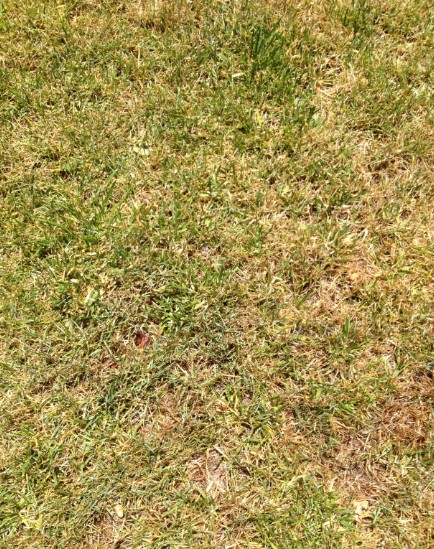 >
Our Claycord lawns are beginning to show signs of stress as folks voluntarily cut back on irrigation.  Patches of dehydrated, drying grass are obvious in many neighborhoods, and they are shown as badges of honor.  Those people are cutting back on their water usage by not irrigating as often the largest, thirstiest part of their traditional landscape.
With the heat last week, lawns have been on the minds of many visitors to the nursery.  People are inquiring about replacing their lawns with water-wise plant material.  They have seen some of their neighbors do it, and for the most part, it can look very nice.  Last week I spoke to 5 homeowners.  That's a lot of interest generated by one heat wave.  As summer progresses and extended heat comes our way lawn care will become more of a burden.  The idea of replacing lawn with water-wise plants will be even more appealing.
Replacing your lawn maybe an option for you to consider.  Drive around and see if you can spot any lawnless landscape designs that you suit your style.  Take photos so you have a reference to show any consultants or designers that you seek out to help with your vision.
Say replacing your lawn with water-wise plantings isn't your idea of a landscape.  Perhaps you want to minimally water and really try to keep your lawn greenish until fall and winter relief comes our way.  First step you should take to try to keep your lawn surviving is to not cut your grass too short.  Low mowing allows the soil under your grass to be more exposed to the sun and wind, and encourages faster dry out.
Second, consider mulching a layer of multi purpose soil condition atop your lawn.  Choose a product that is for productive plants.  Look for conditioner that contains ingredients such as chicken manure, earthworm castings, bat guano, and micorrhizae fungi.   The layer needs to be only 1-2" thick.  Rake the lawn to spread the conditioner evenly.
The time of day that you choose to water your lawn really matters.  Just yesterday I spotted a lady in our neighborhood watering with a water-wand on the mist setting around 11am.  The water vapor that she was wasting was amazing, and she was hardly wetting the lawn and possibly burning the grass blades. Lawns need to be watered in the very early hours of the morning.  If you feel the urge to add more water by hand, do it early in the day, choose the shower setting, and keep the hose low towards the grass.  If you lawn as dry patches, water using captured water from the shower or sink.
Happy Gardening.
Nicole Hackett is the Garden Girl at R&M Pool, Patio and Gardens, located at 6780 Marsh Creek Road in Clayton, 925-672-0207.
Nicole writes for the Clayton Pioneer Newspaper, and Claycord.com. She is also the Clayton Valley Garden Club 2012 President.

>