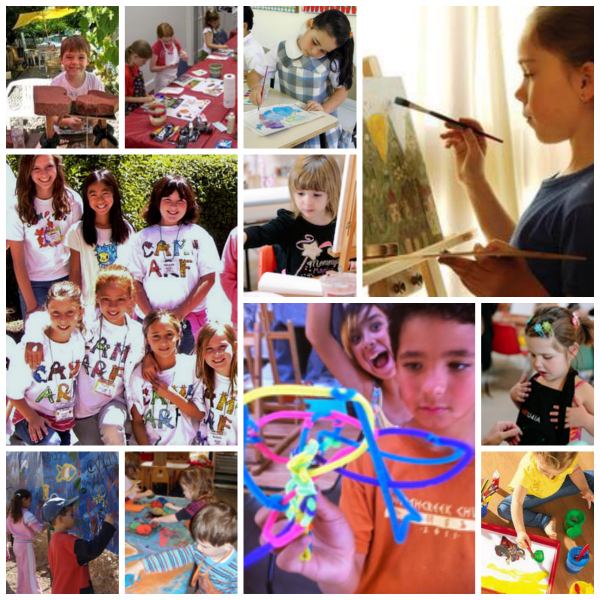 >
If you're a parent who's stressing about how to set up a summer full of creative activities for your kids to do with their friends, Famtivity.com may very well transform that stress into a delightful piece of cake.
Famtivity.com is a free online community for families to connect with each other and find local kid-friendly activities. The site was launched about a year ago by a group of East Bay parents, including Walnut Creek dad, Soren Kaplan and two Clayton moms, Heidi Celentano and Amy DeSeelhorst.
The idea was sparked from a dinner party where they were talking about how complicated and time-consuming it can be to keep the kids happy and active when they're not in school.
Families can browse through thousands of activity providers right here in the Bay Area which are searchable by activity type, date, location and kid's age. Once you find what you like, you can register and pay for sessions on the site and share them with others. You can set up a single event, a series of weekly or monthly classes, or even a whole year's worth of after-school care.
How about a Lego-themed birthday party or a mobile petting zoo at your door? Maybe your kids would love a kite-flying adventure or a hayride? Pan for gold? Grow a garden? Art, craft, music, dance, sports, camps, things to do together as a family…it's all here.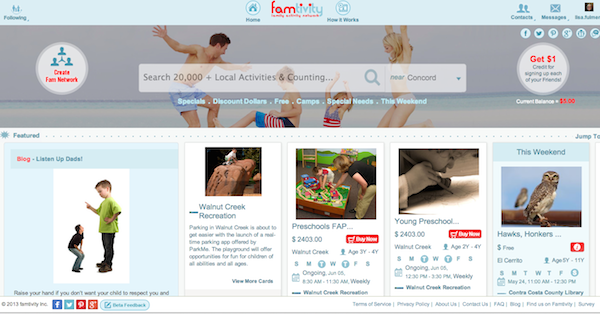 >
You can subscribe to your favorite providers to get alerts on their new events and manage all your activities on your own dashboard. The site provides a private social network for parents to connect with each other and coordinate things like play dates and carpools. There's also a blog with lots of helpful articles from a variety of parenting experts.
If you're a local business that provides activities for families, kids or teens, you can set up shop and promote all your events on Famtivity.com for a nominal monthly fee.
Happy activity planning!
EVENTS
Deadline: May 26
The Craftys.com
Upload pics of your kids' craft projects for a chance to win cash and prizes
Now through May 31
Gary Anderson & Friends
Art Cottage, Concord
Now through May 30
Beautiful World – Art exhibit
Contra Costa County Administrative Building, Martinez
Now through June
Putnam County Spelling Bee (musical)
Lesher Theater, Walnut Creek
May 22
7:30pm
Mamma Mia!
California Theater, Pittsburg
May 24
8:00am – 10:00pm
Jeff Magidsdon Blues Band
Armando's, Martinez
May 25
2:15pm
Macy Blackman and the Mighty Fines (jazz)
Knight Theater, Walnut Creek
May 25
7:00 – 9:00pm
Bradley School of Music jam session
Vinnie's Bar & Grill, Concord
May 27
7:00pm
Spring Gala Youth Orchestra Concert
Shadelands Auditorium, Walnut Creek
May 27 – June 24
Salsa Dance Lessons
Willow Pass Community Center, Concord
May 28
7:00pm
Youth Spring Dance Performance
Shadelands Auditorium, Walnut Creek
May 28 – July 19
Wicked Botany – art exhibit
Community Art Gallery
Walnut Creek Library
May 29-31
Suessical the Musical, Jr.
Del Valle Theater, Walnut Creek
May 31 – June 1
Art & Wine Festival
Heather Farm, Walnut Creek
June 12
6:00 – 8:00pm
Reception – The Skull Show
Bedford Gallery, Walnut Creek
June 21
11:00am
Public art walking tour
Downtown Walnut Creek
June 21
10:00am – 3:00pm
Flip Flop into Summer – Craft Boutique
Martinez Senior Center
June 21
8:00pm
Best Intentions – Motown music
California Theater, Pittsburg
June 28
8:00pm
Juneteenth Dance Celebration
California Theater, Pittsburg
Creative Space is a weekly column written by Lisa Fulmer that features local art events and performances, inspiring interviews with creative movers and makers, DIY how-to projects for you and our home, plus fun craft ideas for the whole family. Creative Space will be on Claycord.com every Thursday at 2pm.

As an avid creative junkie living in Concord, Lisa wants to make it easier for our readers to find ways to embrace creativity and celebrate the local people who are making it happen. In addition to her work as a writer and a marketing consultant, Lisa is a mixed media artist and a project designer for the craft industry.

Visit her blog to see more of Lisa's own creative space.