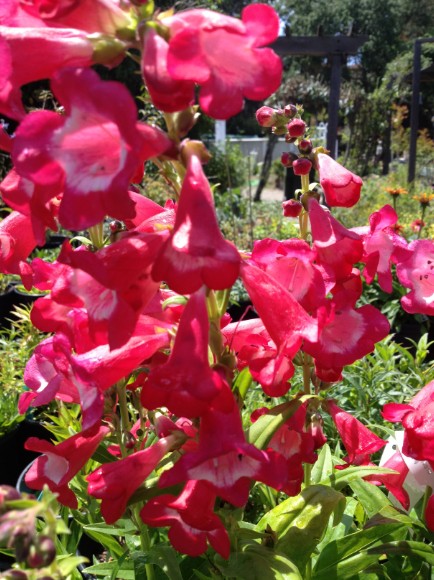 >
Landscaping around a swimming pool can be an interesting undertaking. Some of the usual ornamental trees, shrubs and plants that we enjoy in other areas of the yard have the potential to become an absolute nuisance around a swimming pool. The crepe like petals of a crape myrtle tree, or the expired blossoms from carpet roses lose their luster if you have to constantly skim the debris from the swimming pool. Whether your planning a poolscape, or renewing an existing poolscape, careful planning today will save you some pool care tomorrow.
Privacy and vertical interest are sought after elements in designing a poolscape. What to choose? Queen palms are an obvious choice for a pool owner seeking the tropical look around the pool. They are easy to find, and reasonably priced, aside from some extra care the first few years, they make a great evergreen backdrop to a swimming pool. Arbutus Marina is an evergreen selection that you can find either multi trunked, or shaped like a tree. Dark green foliage compliments the cinnamon red trunk of this small tree. Pittosporum tenuifolium Silver Sheen is a simple selection that will create great privacy. This evergreen has a dense appearance, with an eventual height anywhere from 8-12' tall. It's not too big and not too small. Excellent when installed to camouflage your neighbor's window from looking down onto your pool. For those needing to satisfy a wider area, consider the Dodonaea viscosa purpurea. This is an exceptional evergreen with two toned leaves of green and red.
Medium sized grasses and shrubs will add dimension to your plantscape. They help hide fences and add pops of color. Cordyline is an ornamental grass looking plant that grows like a small palm. Years ago these small trees would grow 18' tall, these days hybridizers have created small, more beautiful cordyline. Electric Pink is a striped cordyline with red margins, and pink centers.
This plant is so fascinating that no bloom is necessary. Electric Star has striped burgundy and olive green leaves.
Agapanthus Storm Cloud is one of the large flowered agapantha. The foliage can reach 3' tall and a sturdy 4-5' wide, the flowers are dark indigo blues and they can easily stand 5' tall in 3 years. When not blooming the foliage of this sun lover has a nice traditional or tropical look. Euonymus Emerald Gaiety is an evergreen shrub with small leaves of green surrounded with white. During the winter months the variegation of this evergreen changes with the cooler weather, and takes on a pink cast. You can expect this evergreen to grow 3-4' tall and about that wide. Westringia Wynayabbie Gem is not as easy to find, but the look is worth the search. Gray foliage appears hazy, and periwinkle flowers are showy nearly year round. Westringia is sigificantly drought tolerant and sun loving. Leucandendron Chief is another evergreen shrub that must be mentioned. Foliage is green, with a reddish cast that intensifies towards the plant tips. This shrub blends with tropical and Mediterranean style plantscapes.
Showy perennials and plants have a spot in a plantscape surrounding a swimming pool. Kangaroo paw plants are widely available, and the colors are vast. If you crave orange, red, yellow or pink, there is a Kangaroo paw for you. This plant foliage is not too hot looking year round, so install your kangaroo paw behind a medium sized stone to cover up the plant's bad side. Phlomis fruitcosa is an evergreen that blooms May-June in the Clayton Valley area. Whirls of yellow two-lipped flowers stand 2-3' above the gray foliage. The flowers are sturdy and proud. Salvia Indigo Spires is an absolute favorite of mine. This wild shaped plant can be 4' tall and wide with spires of dark purple-blue. Salvia Indigo Spires blooms from June through October. It is a must have! Veronica Sunny Border Blue is another favorite. Dark green leaves reach 18" tall, and will be topped with short, thick spikes of royal blue flowers from August through October. Plant the Sunny Border Blue near Tinker Bell variegated agapantha for a seriously great compliment.
Groundcovers near swimming pools are needed in some applications. Tuecrium majoricum is occasionally called false alyssum. This plant has gray foliage and purple flowers all growing season long. At first look, you may think that this groundcover looks wimpy, but looks in the plant world can be deceiving. Tuecrium majoricum rocks in the garden. Sunset Gold Breath of Heaven is technically not a groundcover, but we still use it as such. This evergreen reaches 1-2' tall and 3-4' wide. Yellow soft foliage is flows in the slightest breeze, and contrast with everything. Trailing lantana needs to be mentioned, whether it's purple, white or gold, they are all swimming pool worthy. Geranium Tiny Monster is a mounding semi-evergreen spreading plant with an exceptional flowering season.
Swimming pool plantscapes can be easy to achieve. A little thought and guidance will go along way. Don't be one of those pool owners married to the skimmer net. You probably have better things to do.
Happy Gardening.
Nicole Hackett is the Garden Girl at R&M Pool, Patio and Gardens, located at 6780 Marsh Creek Road in Clayton, 925-672-0207.
Nicole writes for the Clayton Pioneer Newspaper, and Claycord.com. She is also the Clayton Valley Garden Club 2012 President.

>
photo credit: Barry Hart