This month at the Art Cottage, artist Gary Anderson is joined by several local artists for an exhibit of paintings and dimensional work.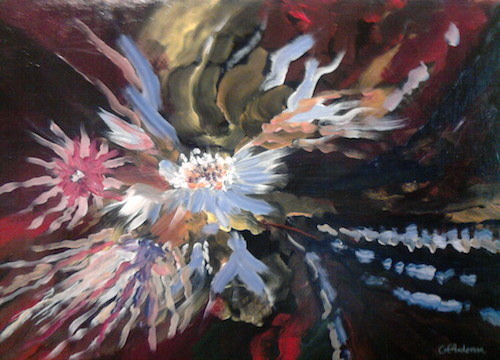 >
Gary's personal story is one of courage and perseverance despite the odds. In 2009 he suffered a massive stroke that significantly affected his motor skills. After many months of being hospitalized, he sold his business and retired in order to focus full-time on rehabilitation and recovery…and the healing power of art. He has completed many beautiful paintings since his stroke, including this one, titled Eloquent Bouquet.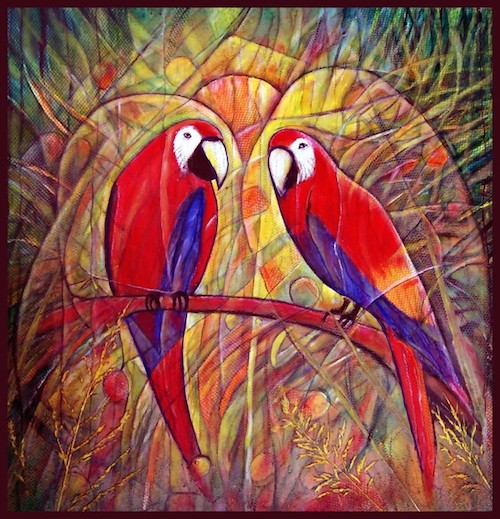 >
Walter Crew says, "I usually paint every day…I have a strong need to explore my creativity and to see my life and surroundings as a visual artist and photographer. My main artistic focus is animals, birds and the outdoors." Walter's collage above is titled Parrots.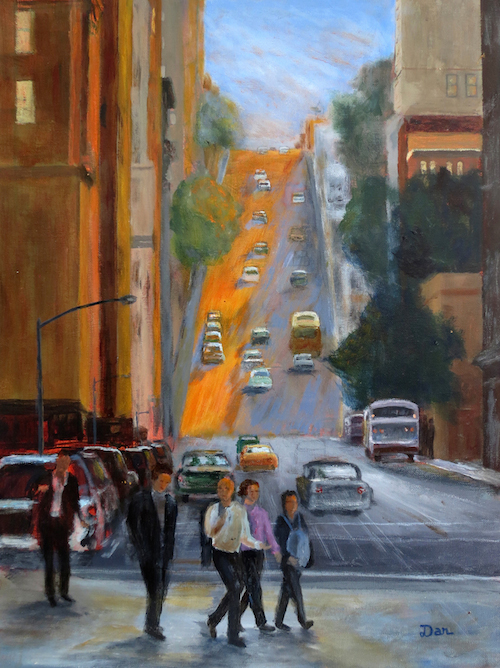 >
Dan Robertson often paints from photos he shoots around town and while on vacation. "It's a matter of looking at the world," he says. This painting above is titled Evening in San Francisco.
Other artists featured in this show include Elizabeth Bloom, Lisa Burton, Julie Christopher, Frogard Butler, Shelley Griffin and Jim Jordan.
EVENTS
Now through May 31
Gary Anderson & Friends
Art Cottage, Concord
Now through May 30
Beautiful World – Art exhibit
Contra Costa County Administrative Building, Martinez
May 16-17
The Wizard of Oz
Del Valle Theater, Walnut Creek
May 17
11:00am – noon
Public Art Walking Tour
Downtown Walnut Creek
May 27
7:00pm
Spring Gala Youth Orchestra Concert
Shadelands Auditorium, Walnut Creek
May 28
7:00pm
Youth Spring Dance Performance
Shadelands Auditorium, Walnut Creek
May 31 – June 1
Art & Wine Festival
Heather Farms, Walnut Creek
June 21
10:00am – 3:00pm
Flip Flop into Summer – Craft Boutique
Martinez Senior Center
Creative Space is a weekly column written by Lisa Fulmer that features local art events and performances, inspiring interviews with creative movers and makers, DIY how-to projects for you and our home, plus fun craft ideas for the whole family. Creative Space will be on Claycord.com every Thursday at 2pm.

As an avid creative junkie living in Concord, Lisa wants to make it easier for our readers to find ways to embrace creativity and celebrate the local people who are making it happen. In addition to her work as a writer and a marketing consultant, Lisa is a mixed media artist and a project designer for the craft industry.

Visit her blog to see more of Lisa's own creative space.