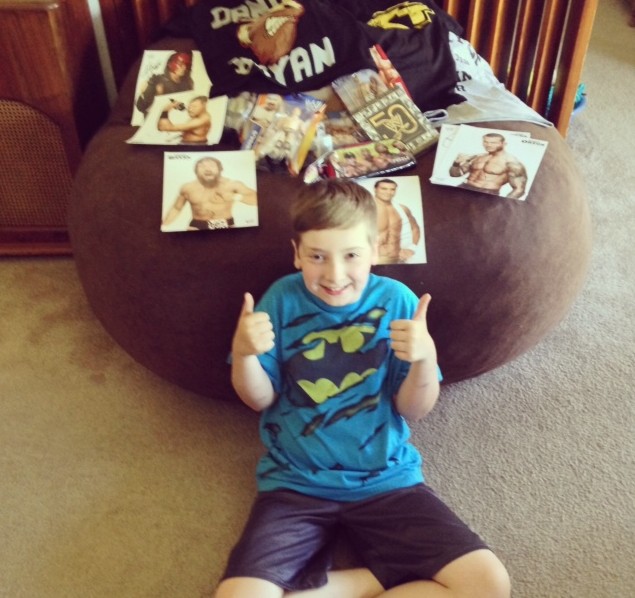 >
As we exclusively reported just over a week ago, a 10-year-old boy from Claycord who was attacked by pitbulls last August recently faced a mental setback when the autograph book & poster he received from several World Wrestling Entertainment (WWE) Superstars during his recovery was stolen, according to his mom, Melody Ralls.
Hunter was getting ready to play video games at a friend's house in the 2000 block of Reseda Way in Antioch on Aug. 11 when one of two pitbulls usually kept in the home's yard attacked Hunter, Ralls said.
When Hunter was knocked to the ground, the second dog attacked, and the animals bit the boy's arms, head and face, severing part of his ear, according to his mother.
Hunter underwent two skin graft surgeries at UC Davis Medical Center in Sacramento to repair the damage to his head, face and arms late last year, and received the autographs and good words from the Superstars to help him cope with the pain and suffering.
Both were stolen from him and sold on Craigslist, Ralls said.
After Claycord.com posted the story about the theft, it was seen by Concord Native & WWE Diva Natalie "Eva Marie" Nelson, and also by WWE Trainer Sara Amato, who has family in the Claycord area that sent her the article.
Both worked together and quickly gathered several autograph pictures, t-shirts, dvd's, action figures, etc. and sent the items to Hunter.
After receiving the package, he posed for the picture shown above and is "beyond thankful and ecstatic", according to his mom. She says "Thank you for helping to get the word out. We are so thankful there are caring people out there still that would do this for him."
BIG thanks to everybody involved in helping Hunter, including WWE Trainer Sarah Amato and WWE Diva Natalie "Eva Marie" Nelson. It was really thoughtful of the two of you to take time to help this nice little boy. We know it means the World to him.