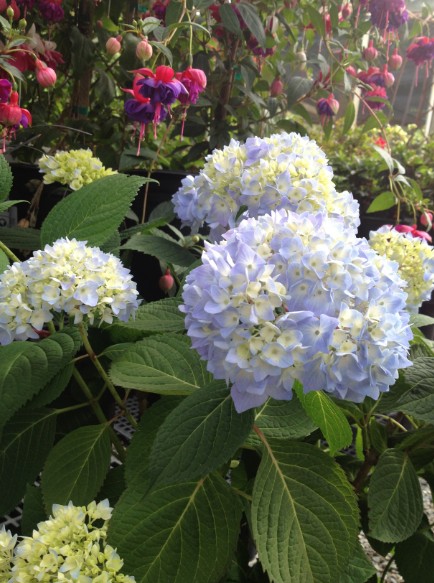 >
Mother's Day is this coming Sunday. That day is usually busy in the nursery as many find living gifts to honor the mothering people in their lives. Roses, hydrangeas, gerbera daisies and geraniums (pelargonium) are some of the more sought after plants for the occasion. With nursery shelves full of selections it is nice to have an idea of what's desirable.
Roses are huge on Mother's Day. Some choose to purchase cut flower bouquets while others buy plants that produce bouquet of flowers for decades. Hybrid tea bush roses and 36" standard tree roses are very giftable. Their mature sizes and heavy flower production make them a favorite of both the givers and receivers. Three excellent varieties of roses to consider giving are Pope John Paul II, Double Delight and Perfume Delight. All three of these selections have an intense fragrance. They are also highly rated for disease resistance and flower longevity. Pope John Paul II is a white rose is a large petal count. Double Delight has a flower that changes as it opens. The bud starts off pink with a creamy yellow base, when it's fully open the flower appears entirely cream colored. Perfume Delight is bright pink. The high buds make for perfect traditional cutting rose.
Hydrangeas are great living gifts for the Mom in your life who has lots of shade in her landscape. Endless Summer is an exceptional selection of hydrangea. Globes shaped flowers of blue are almost ever blooming. This hydrangea blooms on both old and new wood making is foolproof selection. Oakleaf Hydrangeas are so simple to grow. They don't require as much shade as other hydrangeas. They are unique looking and perfect for a garden lover that looks for something different. The Oakleaf Hydrangea has large oak shaped leaves that are covered with a tight pile and white panicle shaped flowers. It is a fabulous selection.
Gerbera daisies make people happy. The Garvinea collection of Gerbera daisies is a colorful group of smaller 2.5" flowers. A smaller flower allows this collection to make tons more flowers over a longer period of time. The colors are listed as proper names. Rachel is a red Gerbera, Sophie is orange, and Layla is dark pink.
Geraniums are always winners when gifted. For many years garden lovers planted Martha Washington Pelargonium. Then suddenly the industry was Martha Washington-less. There were none to be found. This spring Martha Washington has re-emerged as an Aristocrat Geranium. They are as beautiful as I remember with their orchid shaped flowers of multiple color jewel tones. Aristocrat Geraniums are great grown in a container in full to partial sun. They can be productive for many years.
Remember the motherly figure in your life next Sunday with a living gift. Better yet, plant it for the recipient!
Happy Gardening!
Nicole Hackett is the Garden Girl at R&M Pool, Patio and Gardens, located at 6780 Marsh Creek Road in Clayton, 925-672-0207.
Nicole writes for the Clayton Pioneer Newspaper, and Claycord.com. She is also the Clayton Valley Garden Club 2012 President.

>
photo credit: Barry Hart