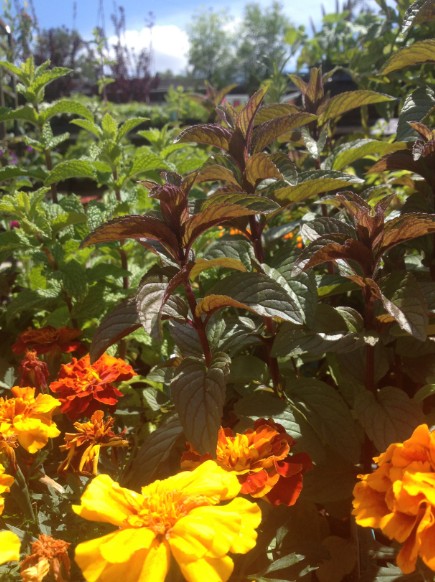 >
Herb gardening is both beautiful and rewarding. Plant-lovers delight in how easy it is to grow the herbs that they love to cook with. It is great to be able to walk out side and snip some leaves from the sage or sprig of rosemary and incorporate them into any of their favorite dishes. Herbs are also attractive garden installations. They can be grown in garden beds, borders or containers. Many have interested looking foliage and some have very pretty flowers.
The idea to grow your own herbs has surged over the past years. The palates of these herb growers have matured too. Yesterday's herb gardens were planted with basil, parsley and rosemary. Although those old favorites still rule the herb bed, today's herb growers are expanding their gardens to include various flavored mints, expanded collections of basil, colorful oregano, fruit and citrus infused thyme, fancy leafed and flavored sages and lemon verbenas.
Herb gardens should be located in a mostly sun. Plants need to be installed using a rich soil conditioner; preferable one that once opened looks more like potting soil and less like bark. Once established, most herbs are very water wise, requiring very little to thrive. Basil, cilantro and parsley plants are an exception, and they need more water, and tolerate less sun. Fertilize herbs with an organic or natural fertilizer.
Flavored mints are all the rage; Mojito, Apple, Basil, Chocolate and Banana Mint are among some of the most popular. Mint can get out of hand in a garden bed. Install your chosen mint in a container for control.
Oregano is a large family of herbs containing members just planted for cooking and some that are so pretty they can be planted just to admire. Greek and Italian Oregano are two fabulous choices for those that desire fresh oregano for cooking. Oregano Aureum Gold has bold yellow leaves, which is fabulous looking in the garden. Kent Beauty is a variety that one may plant just for looks. Kent Beauty has pinkish-purple flowers that weep over the sides of containers and hanging baskets. Try to remember this oregano's name. Once it is blooming in your landscape you'll be asked over and over again to identify it!
Thyme is another huge selection of herbs. There is a flavor to please every one. You can find lemon, lime and orange flavored thymes, as well as coconut and oregano. All thymes are edible. Some don't have a flavorful essence that will transfer to the food your creating.
Sage is such a large family; columns can be written on this group alone. Cooking Sage has that deep, hardy fragrance and reminds me of sausage. Common Sage is a great evergreen shrub in the landscape. It has large gray leaves and summer blue flowers. If you are craving a different look in the landscape or container, look for the tri-color sage. This selection has a leaf with combination pink, cream and green colors. Pineapple Sage is a joy to grow. Its leaves smell like pineapple when crushed. It is used for baking, and flavored waters and teas. If you don't wish to use the Pineapple Sage for cooking, you can just enjoy watching the hummingbirds as they drink its sweet nectar from the salmon colored summer flowers.
Happy Gardening.
Nicole Hackett is the Garden Girl at R&M Pool, Patio and Gardens, located at 6780 Marsh Creek Road in Clayton, 925-672-0207.
Nicole writes for the Clayton Pioneer Newspaper, and Claycord.com. She is also the Clayton Valley Garden Club 2012 President.

>
photo credit: Barry Hart