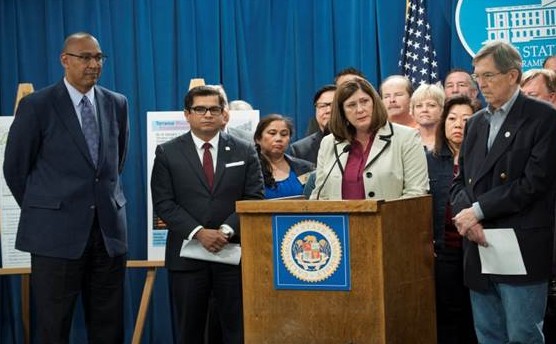 >
Assemblywoman Susan A. Bonilla (D-Concord) announced the introduction of a major reform measure, AB 1147, to overhaul California's existing massage therapy law.
"Clearly the current regulatory system for massage therapy businesses in California is not effective," said Assemblywoman Bonilla. "Bad actors, masquerading as legitimate massage professionals, have exploited loopholes in current law which impairs the ability of local government and law enforcement to regulate them. Their actions damage the integrity of true massage therapy professionals."
The Massage Therapy Act of 2014 was introduced to address problems stemming from Senate Bill 731 (2008) which created a voluntary certification process for massage professionals. This voluntary process resulted in the dramatic increase of massage businesses, many of which have become home to serious illegal activities such as prostitution and human trafficking.
"It's time we take back control of our neighborhoods," said Assemblymember Jimmy Gomez. "Legitimate massage therapists have a role in our communities. But the current law has allowed criminal elements to hide behind the law and disrupt our communities. This stops now."
"This bill frees cities and law enforcement to do what they do best: guard the best interests of its citizens and resident businesses and protect their community from criminals," said Assemblymember Chris Holden. "This bill allows good massage therapists to be recognized and bad actors to be put out of business."