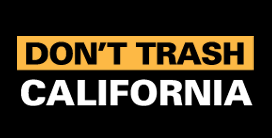 >
Caltrans and the CHP are teaming up to increase awareness of litter clean-up and enforcement efforts on Thursday, April 24th, 2014, as part of the many Earth Day events happening throughout the Bay Area this week.
As a preview to Thursday's Caltrans-CHP Litter Clean-Up and Enforcement Day, motorists will see "Don't Trash California" litter bags stacked along Bay Area highways.
CHP Commercial Mobile Road Enforcement units will also focus on litter enforcement, and educating drivers to cover their loads.
On Thursday, April 24th, Bay Area highway changeable message signs will remind everyone to: "Don't Trash California". Caltrans will also focus on cleaning-up litter left alongside our highways.
In 2013, Caltrans spent about $62 million statewide cleaning up litter and collecting more 155,000 cubic yards of trash enough to fill more than 1,000 swimming pools with 30,000 gallons of water in each.
Litter Clean-Up and Enforcement Day started as a conversation more than 10 years ago between Caltrans, CHP and local cities to raise awareness, and help keep our highways clean throughout the Bay Area.