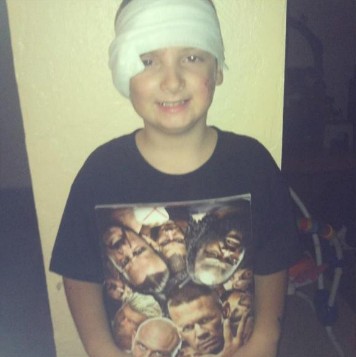 >
A Martinez boy who was seriously injured when he was attacked by pitbulls last August has now faced a mental setback; the autograph book & poster he received from several World Wrestling Entertainment (WWE) Superstars during his recovery has been stolen, according to his mom, Melody Ralls.
Hunter Kilbourn underwent two skin graft surgeries at UC Davis Medical Center in Sacramento to repair the damage to his head, face and arms late last year, and received the autographs and good words from the Superstars to help him cope with the pain and suffering.
Both were stolen from him and sold on Craigslist, Ralls said. "I am trying to locate the person who bought them not knowing they were stolen and NOT for sale, so we can get them back. His name is inside the book as wrestlers wrote "Hunter, get well soon", etc. It is not just a "program book" to us but a part of healing. I'm assuming the person is in the Martinez, Pleasant Hill, Concord, East Bay Area", Ralls said.
Hunter was getting ready to play video games at a friend's house in the 2000 block of Reseda Way in Antioch on Aug. 11 when one of two pitbulls usually kept in the home's yard attacked, Ralls said.
When Hunter was knocked to the ground, the second dog attacked, and the animals bit the boy's arms, head and face, severing part of his ear, according to his mother.
If anybody knows where this book & poster are located, please contact news@claycord.com. We will keep you 100% anonymous. His Mom just wants the book & poster back, and no questions will be asked.