The following letter is from Clayton Valley Little League, it's in regards to an alleged incident in which some of their disabled baseball players were kicked off the field at Clayton Valley Charter High School.
Dear Little League Family,
Last night, your CVLL board had its monthly meeting to go over issues that arise during the year and to ensure the league is running as smoothly as possible.   In particular, the Board spent a considerable amount of time on an issue that came up this last weekend between the high school softball coach and our Challengers division.  After our discussion, the Board felt it was necessary that you all be advised of the issue.  In this regard, please see the attached letter that was sent to David Linzey, the Executive Director, at CVCHS.   We have full confidence in Mr. Linzey as he has demonstrated he is a person of high character who puts the needs of students first.
After reading the enclosed letter, you may be asking yourself why we are bringing this to your attention.  Well, the Board wanted the league to be aware of this issue for several reasons:
1.  We want to ensure that this breach of agreement is fully investigated as the softball coach has painted a very different picture to the administration then what we know and experienced.  We want to ensure that our side is heard and, most importantly, this issue is highlighted so that it will never happen again.  In this regard, we would ask that if you feel as strongly as the Board does, that you send a short email to Mr. Linzey and express your thoughts and request that a full inquiry be conducted and that he work to ensure that nothing like this happens again in the future.  Mr. Linzey's emails is David.Linzey@claytonvalley.org.
2.  As most of you know, CVLL has worked over the years to try and keep a partnership together with the CVCHS softball program.  In this regard, both sides have striven to overcome the natural and expected friction that is inevitable with both programs using the same fields.  After all, many of our girls and their families hope to play softball for CVCHS in the future.  As part of this partnership, we have enlisted and paid the softball program to help put on clinics for our girls and have helped publicize their own clinics they run during the year.  In fact, much to our regret in hindsight, just last week and right before they breached our agreement, sent out a flier on their behalf for a clinic to be held over spring break.  Over the last several years this partnership has been strained as an unrelated "Bears" travel softball program, run by the softball coach for pay, has encroached more and more on our ability to use the fields we built at the school.  This latest issue is the breaking point of any partnership we had or wished to have in the future.  As a result, the Board was unanimous in voting to no longer partner with or support the softball program and "Bears" travel team.  We will continue to partner with the school as a whole and with the boys baseball program, but cannot in good conscience continue relationship with a program and a coach who clearly does not want to work at that partnership.  We will work both this year and in the future to ensure that we continue to have clinics and programs available to help our girls, but it will be with another program and coach.
The Board would like to make it clear to all of our families that it still fully supports CVCHS as a whole as it is doing wonderful things to improve the education of the kids in the community, many of which were and are still CVLL families.  We also would like to be clear that our information is that Mr. Linzey was unaware of this issue and was not involved in the decision to or the breach of the agreement he put together with CVLL.  When we raised this issue with Mr. Linzey, he apologized for the breach of our agreement and stated that he will investigate the matter.  We have and hope to continue to have a good, strong and open relationship with Mr. Linzey and CVCHS.  Our issue is with the softball coach and any others who participated in the breach.
Finally, the Board wishes to make clear that we are working with the school to investigate this issue and ensure nothing like it occurs in the future.  We are going through a process and it is important that neither the Board or any member or family of CVLL take matters into their own hands by doing anything that would exacerbate or further strain our relationship and use of the fields at the school.  It is also important that we do not take any of this out on the girls within the softball program as they are not involved.  In short, let's keep it classy and professional on our end and let the school investigate and get back to us.
We sincerely hope that this is the last such email we will need to send to our families. Thank you for your attention and continued support.
CVLL Board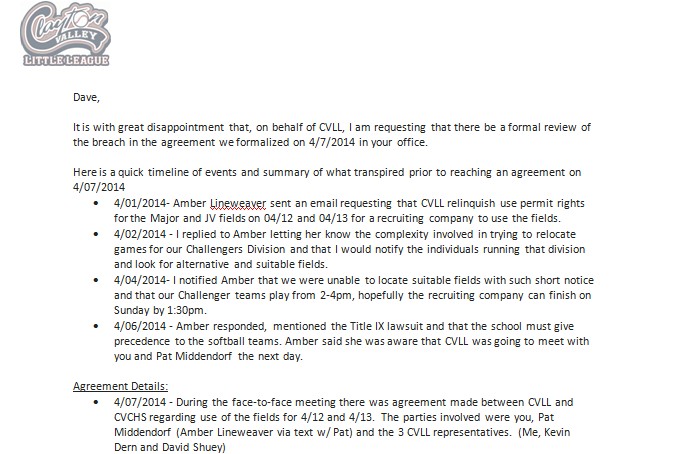 >