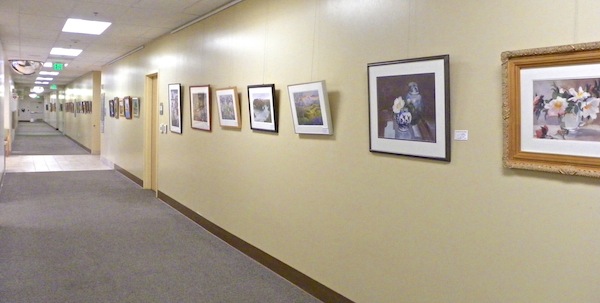 >
This long, quiet hallway is in the Aspen Surgery Center at John Muir Hospital in Walnut Creek. If there were no art hanging here, can you imagine how you might feel walking from one end of the hall to the other, while you're waiting for an update on a patient's condition? I imagine that the Surgery Center's patients and their families probably enjoy seeing these lovely paintings hanging here instead of blank walls…art is healing in so many ways.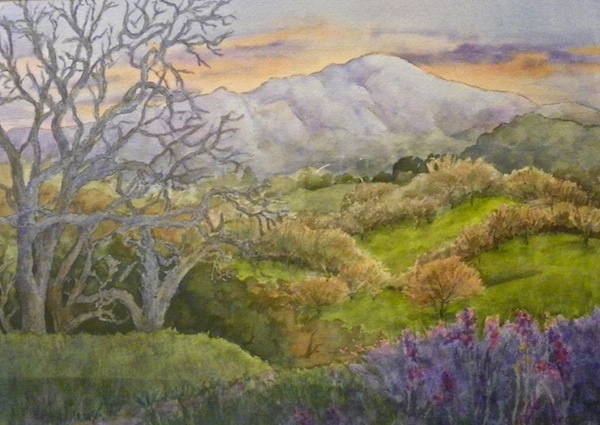 >
After a nursing home in Australia installed an art gallery in their facility, they saw marked improvements in their residents' heath and self-esteem. Psychotherapists use art therapy to help people deal with trauma, grief and depression. Art events in Boston are helping those communities heal as they commemorate the one year anniversary of the marathon bombing.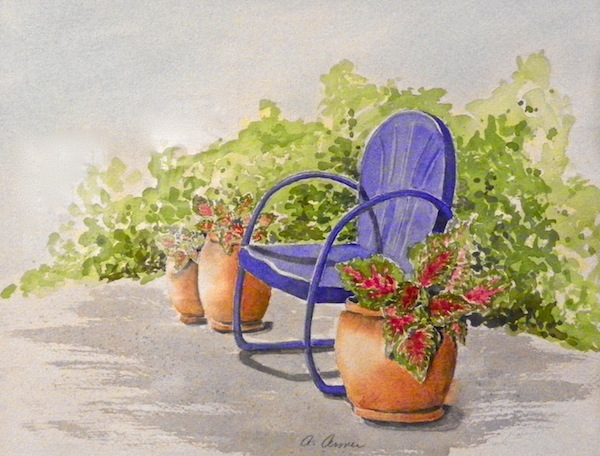 >
Viewing art can give us as much joy as being in love, according to one study; the blood flow to our brains increases when we like what we see. Even art critics, who might be hesitant to attribute healing as a benefit of art, recognize that the pleasure we get from viewing it can alleviate suffering.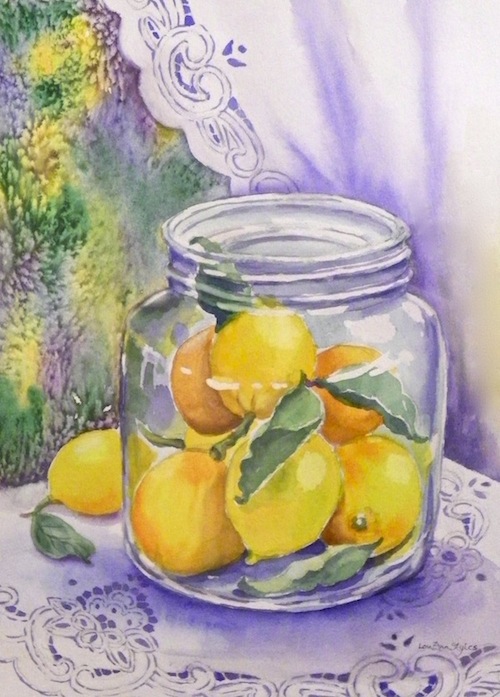 >
The paintings shown here are from the Concord Art Association's annual show in the Aspen Surgery Center – on exhibit through May 9th. The Surgery Center (shown below, to the right of John Muir Hospital), is open to the public and free parking is available on the upper levels of the parking garage. All works are also available for sale.
The Concord Art Association maintains rotating art galleries in several local businesses, including senior centers and healthcare facilities, where patients, patrons and the general public can all enjoy the healing power of art.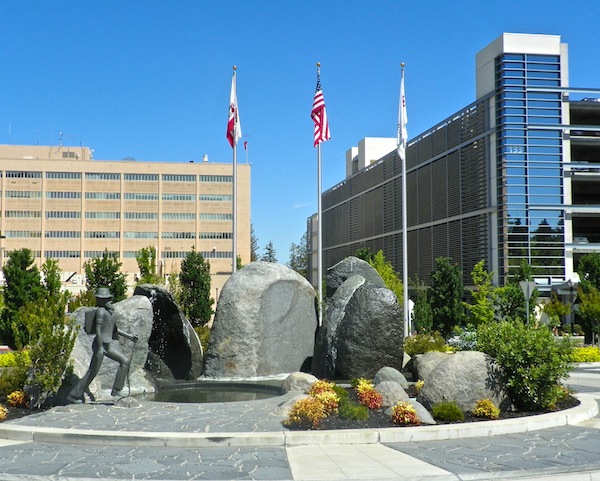 >
Images shown:
1.  Aspen Surgery Center hallway (photo by Lisa Fulmer)
2.  Mt. Diablo Sunrise by Julie Limberg – watercolor
3.  Paula's Garden by Alice Armes – watercolor
4.  Lemon Jar by Lou Ann Styles – watercolor
5.  John Muir Hospital entrance (photo by Lisa Fulmer)
EVENTS
Now through May 10
Fresh Color Art Exhibit
Valley Art Gallery, Walnut Creek
April 18
7:30pm
Steve Lucky and the Rhumba Bums
Armando's, Martinez
April 19
6:00 – 9:00pm
Poetry and Photography – reading/exhibit
Jennifer Perlmutter Gallery, Lafayette
April 26
10:00am – 4:00pm
Earth Day Celebration – Live Music
John Muir Historical Site, Martinez
April 26-27
Spring Pacific Fine Arts Festival
Downtown Walnut Creek
May 1-4
Cinderella
Fantasy Forum Actors Ensemble
Lesher Center for the Arts, Walnut Creek
May 2-4
Spring Artists' Market
Civic Park and Shadelands Auditorium, Walnut Creek
May 3
10:00am – 4:00pm
Artist Showcase
Martinez Arts
May 3-4
East Contra Costa Open Studio Tour
Antioch, Brentwood, Discovery Bay
May 4
Spring Craft Fest
10:00am – 5:00pm
Bedford Gallery, Walnut Creek
May 10
Concord Art & Wine (and beer!) Walk
Todos Santos Plaza, Concord
May 10 – June 7
2:00 – 5:00pm
Collage with Acrylic and Watercolor class
Shadelands Art Center, Walnut Creek
May 11
1:00 – 4:00pm
Mother's Day Art in the Park
Heather Farms, Walnut Creek
May 17
11:00am – 12:00pm
Public Art Walking Tour
Walnut Creek
Creative Space is a weekly column written by Lisa Fulmer that features local art events and performances, inspiring interviews with creative movers and makers, DIY how-to projects for you and our home, plus fun craft ideas for the whole family. Creative Space will be on Claycord.com every Thursday at 2pm.

As an avid creative junkie living in Concord, Lisa wants to make it easier for our readers to find ways to embrace creativity and celebrate the local people who are making it happen. In addition to her work as a writer and a marketing consultant, Lisa is a mixed media artist and a project designer for the craft industry.

Visit her blog to see more of Lisa's own creative space.