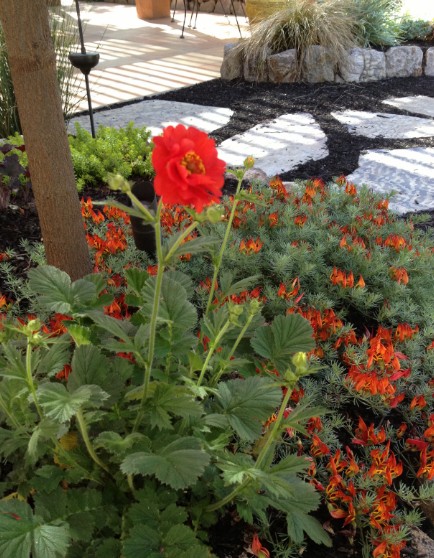 >
Those of you who garden in the shade know how hard it is to incorporate brilliant color to the area.
You probably haven't met Mrs. Bradshaw's Geum; a punchy colored perennial that is Claycord hardy, and ready to thrill you with months of color.
Mrs. Bradshaw's Geum is a garden gem. Its blazing orange flowers will delight growers from April through June. Each medium-green oak shaped leaves has a fuzzy pile. The leaves create fern-like mounds that are 14"-18" wide.
This mound holds sturdy stems that stand 18"-24" tall and support Mrs. Bradshaw's many orange flowers. Mrs. Bradshaw's Geum makes the perfect addition to garden and borders throughout our Claycord landscapes. Although shade loving Mrs. Bradshaw's Geum will beds tolerate morning sun and afternoon shade with regular water.
This perennial is simple to grow, needing only a good start to make it happy. When installing Mrs. Bradshaw's Geum combine high nitrogen soil conditioner with the native soil at a 50-50 ratio. This will insure a good start of the plant. Hand water the first week after planing to thoroughly re-wet the new soil. If you snail and slugs are a problem in your garden, put a pellet of two of bait beneath Mrs. Bradshaw's Geum leaves as a preventative.
Use the Mrs. Bradshaw's Geum in the garden as a companion to Brunnera macrophylla. The forget-me-not blue flowers will play well with the brilliant orange flower of this Geum. If you have a carpet of Ajuga, install some Mrs. Bradshaw's Geum to the area. Lotus is excellent small-scale groundcover that would accessorize Mrs. Bradshaw's Geum. The Lotus is commonly called Parrots Beak. The flowers resemble small birds of paradise, and are found in the colors of orange, red and yellow.
If orange isn't your color. Geum comes in other bold shades. Blazing Sunset has a stunning double scarlet flower. The Blazing Sunset would work well combined with white flowering azalea shrubs and variegated Hosta. Borissii Geum has golden-orange flowers that are the shades of butter. Lady Stratheden Geum has double canary yellow flowers that make a nice companion with perennials that flower lavender or blue.
Geum plants are herbaceous perennials. They begin to grow during the earliest days of spring, bloom mid-spring through early summer and go to rest in the autumn. Geum plants will set seed after they flower. The following spring it is a welcome sight to see if any other Geum has re-seeded in the garden bed.
Geum looks better the longer it has been planted in your garden. The first year, you'll like them, by the second year you'll like them more!
Happy Gardening!
Nicole Hackett is the Garden Girl at R&M Pool, Patio and Gardens, located at 6780 Marsh Creek Road in Clayton, 925-672-0207.
Nicole writes for the Clayton Pioneer Newspaper, and Claycord.com. She is also the Clayton Valley Garden Club 2012 President.

>
photo credit: Barry Hart