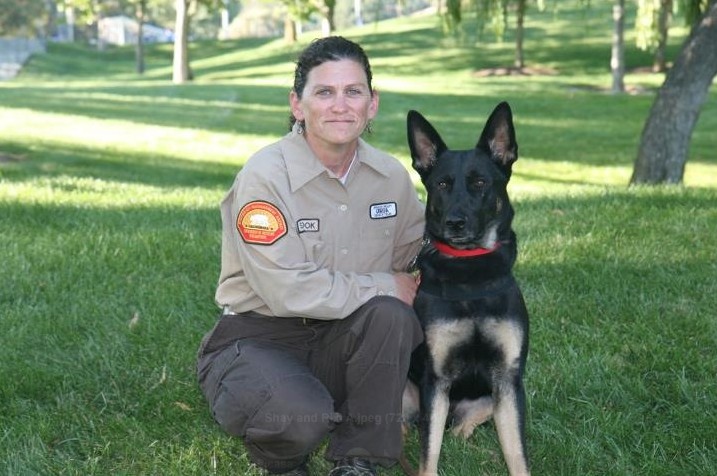 >
Search dog teams from the California Rescue Dog Association (CARDA) returned to California today after a harrowing experience searching for victims of the mudslide in Oso, Washington.
Local Concord resident, Shay Cook and her search dog Rixi, a six year old female German Shepherd, were among the CARDA teams that responded. "It was an honor and a privilege to respond to assist Washington in a time of need.  The devastation was tremendous and there is a great need to get teams in the field to help with the mission.  I am glad I was able to go", Cook said.
CARDA Dispatcher Greg Slavit reported that the teams "put in many hours on a variety of assignments, made a difference and came away safe."
CARDA teams drove to and from the disaster's Eastern front.  Arriving in the small town of Darrington, Karen Atkinson (with her Search Dog Amiga) said "It touched my heart to see their grief.  Being the larger, neighboring community of Oso, these people were the first responders from the fire house, or family and friends of the victims and they were all still working very hard to support the arriving searchers like us.  Their spirit had a powerful impact on me and I will never forget them."
When the teams arrived at the site of the devastation on Thursday, April 3rd, they were awestruck by the extent of the disaster and the complete devastation.  Noreen McClintock, who searched the site with her dog, Cai, said: "It was huge.  It was just huge.  I can't imagine what the first responders went through.  The people buried by that slide were their family and friends."
Each team was assigned to a section of the slide.  "They took a layer down, ran the dogs through, then took another layer down", McClintock reported. "If one dog gave an indication then they would bring another dog in.  If that dog indicated then they dug by hand. The whole operation depended on the work of the dogs.  And the dogs were amazing."
Shay Cook who searched for missing people with her dog, Rixi, found it hard to leave when her assignment ended.  "My heart wanted to stay and keep helping, but I knew there were many new, fresh dog teams to continue the search."  Shay reported that CARDA, a Statewide all-volunteer organization, has sent seven Search Dog teams to Oso so far.  CARDA serves as a resource for the California State Office of Emergency Services who deployed the CARDA handlers and five other teams.
Handler Lori Powers, with her dog, Moxie, also found it hard to leave. "It felt wrong to leave the site with the job not complete", said Powers, "but I felt blessed to participate and work with so many of the teams and residents.  It was still the right time to leave as the dogs had a real limit to what they can endure.  Coming home really made me think about the lessons I learned at Oso.  Tell your family and friends you love them.  Forgive others. Your life can be gone in an instant and our time here is precious."
Upon returning home, handler Eric Sheets recounts "It was a total team effort which got us all home safe and sound.  I knew my wife and friends worried about us, but it was easy to reassure them that the community up there, Washington State, Cal OES and FEMA all looked out us.  I won't forget Oso nor the mutual respect our teams developed with FEMA's WA TF1."
California Rescue Dog is a non-profit organization that operates 24-hours a day to help find missing people. Donations are needed to help pay for travel costs, veterinary emergencies, and general operational expenses.  If you can help please send a donation to:  CARDA4061 East Castro Valley Blvd., #209 Castro Valley, CA94552.
CARDA is a 501(c)3 non-profit organization.  CARDA is also currently seeking corporate sponsors.