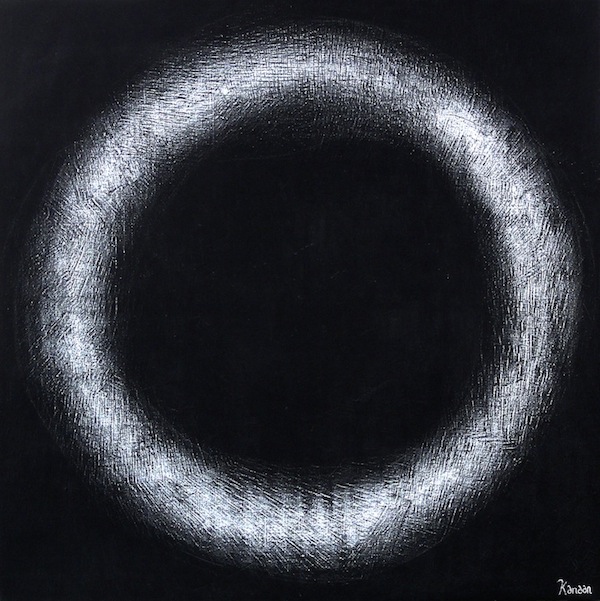 >
Born in Boston but raised in London, artist Daniel Kanaan spent most of his life in England and France before returning to the United States in 2011; he now resides in Walnut Creek. Kanaan has explored a variety of mediums and motifs over the course of his art studies, including landscapes, portraits and even kinetic art made from scrap metal. His experimentation with printmaking led him to create an etching titled Lawn Chairs, which was included in the 2007 Royal Academy of Arts Summer Exhibition, alongside the work of noted European artists, Frank Auerbach and Lucian Freud.
Kanaan switched his focus from figurative work to abstracts a few years ago. His first series of abstract paintings was called Enso, which is the Japanese word for an uninhibited, hand-drawn circle. In Zen Buddhism, Enso is intended to express a moment when the mind is free to let the body create.
"My newer work evolved organically…the Enso paintings are minimal and clear, illustrating the substance in emptiness." Kanaan describes. "The Enso is actually a combination of Eastern impermanence and Western eternal, so the evolution could be seen as being where Western materialism is balanced by Eastern mysticism."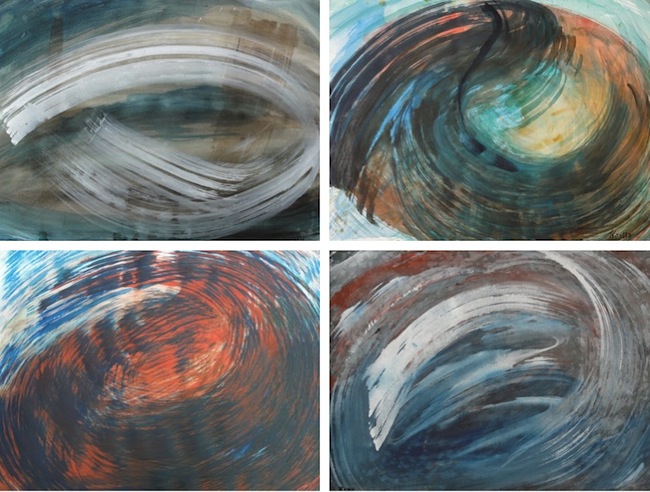 >
His experimental work with circulating strokes and swirls in watercolor helped him develop an original technique that combines water calligraphy with reverse printing to achieve unique effects. He is currently working with this technique and others in a continuation of his Enso series.
Daniel Kanaan is opening his Walnut Creek studio for art collectors to view a variety of his work this Saturday, April 12 from 3:00-6:00pm. An RSVP is required – please email him at dgk@danielkanaan.com if you'd like to attend.
Paintings shown above by Daniel Kanaan:
1.  Enso 58 – Oil on hemp
2.  Top: Solstice I; Well  Bottom: Ephari; Hokusa – Watercolor on paper series
EVENTS
April 12 – June 7
Beginning Stained Glass class
Shadelands Art Center
Walnut Creek
April 13
1:00pm or 4:00pm
International Film Showcase – This Life
El Campanil Theater
Antioch
April 13
4:00pm
Tapestry Handbell and Vocal Concert
Clayton Valley Presbyterian Church
Clayton
April 15
7:00–10:00pm
Creating art on your iPad – class
Art Cottage
Concord
April 17
7:30pm
Duo Gadjo – Jazz with a French Twist
Armando's
Martinez
April 21
10:00am
Volunteer Information Day
Bedford Gallery
Walnut Creek
April 22 – June 10
Beginning Jewelry Design class
Shadelands Art Center
Walnut Creek
April 26
8:00pm
Pink Floyd Tribute Show
Lesher Center for the Arts
Walnut Creek
April 30
Deadline for students to enter
Save M. Diablo Photography Contest
Now through May 30
Antioch High School Student Art Exhibit
Umpqua Bank
Antioch
Save the dates!
Spring Artists' Market
May 2-4
Civic Park and Shadelands Auditorium, Walnut Creek
East Contra Costa Open Studio Tour
May 3-4
Antioch, Brentwood, Discovery Bay
Spring Craft Fest
May 4
Bedford Gallery, Walnut Creek
Concord Art & Wine Walk
May 10
Todos Santos Plaza
Mother's Day Art in the Park
May 11th  1-4pm
Heather Farms, Walnut Creek
Artistic DIY Craft Technique Classes
Thursday nights in May, 6-9pm
Mt. Diablo Adult School, Pleasant Hill
Public Art Walking Tour
May 17
11:00am – 12:00pm
Walnut Creek
25th Annual KidFest
May 24-26
Concord
Arts, Adventure & Academics
Kids' Summer Camp
June 23 – July 5
Walnut Creek Civic Arts Education
Creative Space is a weekly column written by Lisa Fulmer that features local art events and performances, inspiring interviews with creative movers and makers, DIY how-to projects for you and our home, plus fun craft ideas for the whole family. Creative Space will be on Claycord.com every Thursday at 2pm.

As an avid creative junkie living in Concord, Lisa wants to make it easier for our readers to find ways to embrace creativity and celebrate the local people who are making it happen. In addition to her work as a writer and a marketing consultant, Lisa is a mixed media artist and a project designer for the craft industry.

Visit her blog to see more of Lisa's own creative space.