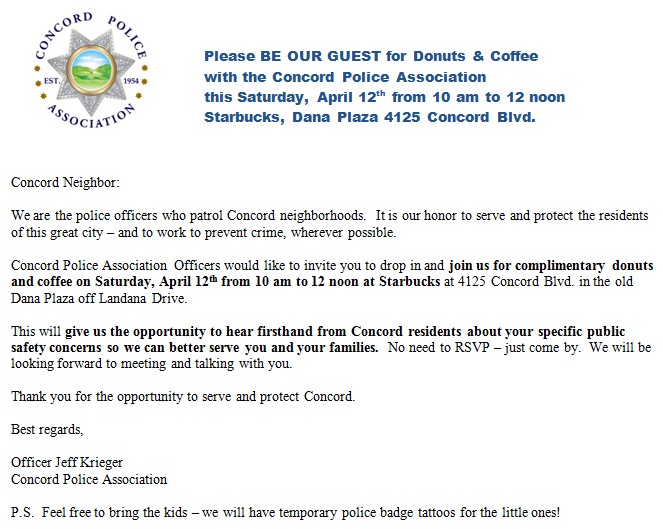 >
Want to eat donuts with the Cops? Well, then Saturday's your lucky day!
The following information is from the Concord Police Assocation:
Concord Neighbor:
We are the police officers who patrol Concord neighborhoods. It is our honor to serve and protect the residents of this great city – and to work to prevent crime, wherever possible.
Concord Police Association Officers would like to invite you to drop in and join us for complimentary donuts and coffee on Saturday, April 12th from 10 am to 12 noon at Starbucks at 4125 Concord Blvd. in Dana Plaza off Landana Drive.
This will give us the opportunity to hear firsthand from Concord residents about your specific public safety concerns so we can better serve you and your families. No need to RSVP – just come by. We will be looking forward to meeting and talking with you.
Thank you for the opportunity to serve and protect Concord.
Best regards,
Officer Jeff Krieger
Concord Police Association
P.S. Feel free to bring the kids – we will have temporary police badge tattoos for the little ones!