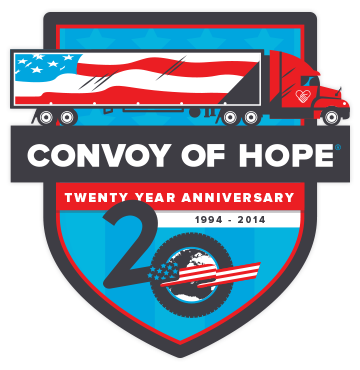 >
Calvary Temple Church hopes to provide approximately $1 million dollars in free goods and services by hosting the East Bay Convoy of Hope community event on Saturday, April 5th at 10am at Rio Vista Elementary School in Bay Point.
"We are very excited to bring Convoy of Hope to the East Bay" says, Carey Gregg, Event Coordinator and Director of Compassion Ministries at Calvary Temple Church. "It embodies our deep commitment to provide compassion and justice for the poor and underserved within our community."
The event is providing FREE groceries, a job fair, help with creating a resume, health screening, dental care, haircuts, children's activities, family portraits, live entertainment, and even a free lunch for all who attend, while it lasts, in a carnival-like atmosphere.
Convoy of Hope has served more than 63 million people worldwide. It is an international relief organization that has its roots right here in Concord. When co-founders Hal and Dave Donaldson were children their parents were in a horrific car accident on Hwy 4 that took the life of their father and left their mother terribly injured. In the days and months ahead the family experienced devastation and homelessness. A family in their local church (Calvary Temple Church) took them into their home and showed great kindness. From this incident a heart of compassion for the hurting and underserved was born.
This will be their 20th year as a humanitarian relief organization. Over 800 volunteers, along with several local churches, many community businesses and local service organizations join Convoy of Hope to bring this event home to the East Bay.
Beyond the bags of groceries, services, and play structures, Calvary Temple Church is providing new tennis shoes for children (while supplies last), a local electrician's union has provided 50 bicycles to be given away, the National Breast Cancer Foundation will provide educational resources, and free smoothies and healthy eating tips from Plum Organics, and more.
All of it is free to anyone who attends, aiming to touch each life through aiding their bodies, minds, and souls and to impart ongoing hope to the members of our community who may need a little extra help.
"The goal is that everyone who attends feels valued, respected, and treated as a guest of honor. "
East Bay Convoy of Hope
Saturday, April 5, 10am
Rio Vista Elementary School
611 Pacifica Ave
Bay Point, 94565
For additional information on this event and Convoy of Hope, CLICK HERE.