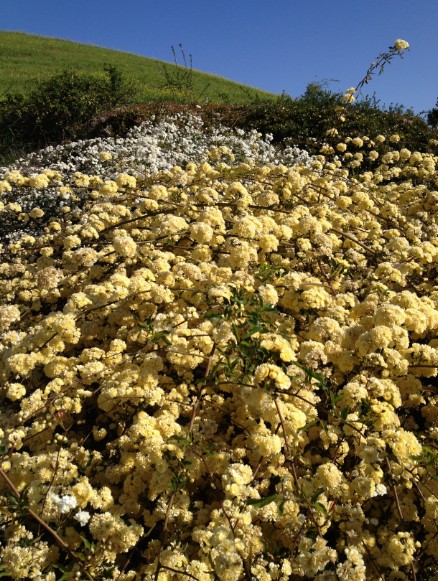 >
While driving along South Larwin in Concord this week I was welcomed with feast for my eyes. Piles of arching, dramatic branches of tiny roses were rambling and tangling their way along the base of a native hillside (it may have been the backside of Memorial Hill).
The scene was so fabulous that I parked in one of the adjacent courts to get a closer look. As soon as I stepped out of the work-truck a wall of sweet rose fragrance greeted me. It was a moment that any flower lover would appreciate.
The piles that I was admiring were from Lady Banks Roses. The Lady Banks roses were displaying masses of tiny yellow and white roses sprawling, piling and stretching over many yards. The arching branches layered over each other giving the rose mounds serious height. This awesome scene was achieved using a vine that many only consider planting along fences and over arbors. Today it was used as a groundcover and the results were amazing.
Lady Banks Roses surge bloom for a handful of weeks in the early spring. The show they provide is thrilling. Lady Banks roses aren't picky about the condition of their soil, and they need very little water once established to thrive. Lady Banks roses are evergreen and thorn-less, making them fearless garden installations. They also seldom suffer from aphids.
Alba is the white Lady Banks rose and Lutea is the yellow. Most customers gravitate towards the yellow flowering Lady Banks. The white Alba however is fabulous, and well admired during the twilight.
Lady Banks roses can mature to 30' of length. Folks should consider this when installing.
A companion installation to pair with a Lady Banks rose is a Cecile Brunner Climbing rose. This selection flowers from mid-spring through early summer. Cecile Brunner has small, pink flower. The Cecile Brunner has thorns and will loose its leaves during the winter months.
Happy Gardening.
Nicole Hackett is the Garden Girl at R&M Pool, Patio and Gardens, located at 6780 Marsh Creek Road in Clayton, 925-672-0207.
Nicole writes for the Clayton Pioneer Newspaper, and Claycord.com. She is also the Clayton Valley Garden Club 2012 President.

>