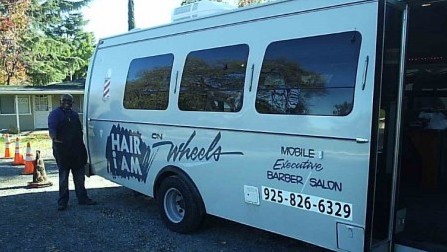 >
Former Clayton hairdresser Jim Frazier has been sentenced after pleading guilty to felony sexual battery by restraint and misdemeanor child molestation, according to Contra Costa County District Attorney Mark Peterson.
D.A. Peterson says his office wanted Frazier to be sentenced to state prison, but Judge Mockler sentenced Frazier to one year in the county jail (he will be allowed to serve 180 days via Electronic Home Detention), three years formal felony probation, sex offender registration, stay away/no contact with minors, restitution.
D.A. Peterson says Frazier also waived his appellate rights.
Frazier, who owned "Hair by Jim", which was next to Skipolini's Pizza, was arrested in August of 2012 after a lengthy investigation by the Clayton Police Department.
photo: Jim Frazier in front of his mobile hair studio after his Clayton business burned down in 2010.